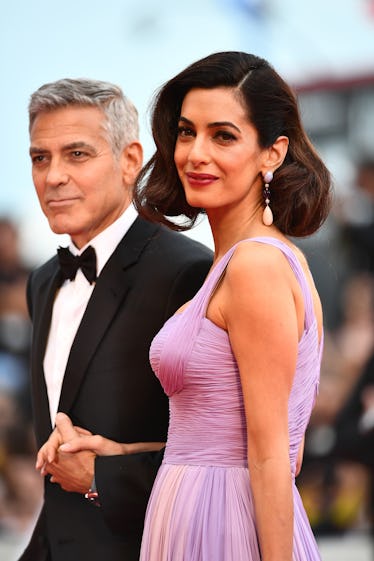 Amal & George Clooney Revealed Their Twins' First Word & It Makes So Much Sense
Ian Gavan/Getty Images Entertainment/Getty Images
I'm not the daughter of George and Amal Clooney, but I dream about it every night. I imagine it's equal parts glitz/glamour and education/information. I imagine the Clooneys have an airy breakfast nook in their kitchen. I also imagine my first words as their daughter would have been something along the lines of "More like Ocean's 1, AMIRIGHT?" In the case of the Clooney's real children, they said something much more profound. Amal and George Clooney's twins' first word was "Mama," because literally duh. Why didn't I think of that?
The twins, Alexandra and Ella, were born in June of 2017 and have predominantly stayed out of the limelight. Despite being a truly extraordinary family, the Clooneys tend to live a pretty low-key lifestyle when they aren't on the red carpet or saving the world. Amal is on the 2018 May cover of Vogue and gave an exclusive interview in which she talked about parenting her babies and what it was like falling for the world's most famous bachelor. (Oh yeah, she also talked about all the incredible work she does fighting for women's safety and social justice.)
Amal confessed the twins have started mumbling some words, and the first was "Mama." She explained to Vogue, "We've had some 'mamas' and 'dadas,'" but she added, "George was very careful to ensure that 'mama' was the first word."
George's outward admiration for his wife has been one of the best parts of this relationship. He sings her praises far and wide, and nothing ever comes across forced or insincere. George had a chance to speak with Vogue, too, about everything he loves about his wife. He said, "She's the professional, and I'm the amateur. I get to see someone at the absolute top of their game doing their job better than anybody I've ever seen."
He also talked about what drew him to her, and his commentary is so swoon-worthy. George said,
Of course she was beautiful, but I also thought she was fascinating, and I thought she was brilliant. Her life was incredibly exciting—the clients she was taking on and the superhuman work that she was doing. I was taken with her from the moment I saw her.
I die.
If you think that's romantic, listen to what Amal had to say about falling for him!
Amal talked about how "easy" it is to be together, which is something I think only a real superhero could say about dating literal George Clooney. Amal told Vogue, "It felt like the most natural thing in the world. Before that experience, I always hoped there could be love that was overwhelming and didn't require any weighing or decision-making."
She continued, "It's the one thing in life that I think is the biggest determinant of happiness, and it's the thing you have the least control over."
George also explained the moment he knew he should ask Amal to marry him. Perhaps not surprisingly, it involved giraffes. (For some reason, that makes so much sense in my head.) George painted the picture of the safari trip he, Amal, and some friends were on when the idea of proposing dawned on him. He said,
Some giraffes walked up to her. They just came out of the blue. I took a picture of her, and she was smiling. I said to my buddy Ben, 'You know, I think I should ask her to marry me.' And Ben said, 'I think that's a good idea.'
Today, they're the proud parents of two sweet wee-ones and slowly but surely taking over the world for the better. If you need me, I'm just imaging myself rocking in Amal's arms, muttering "Mama."
Check out the entire Gen Why series and other videos on Facebook and the Bustle app across Apple TV, Roku, and Amazon Fire TV.