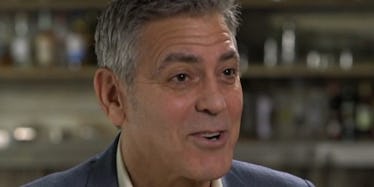 George Clooney Opens Up About Amal's Pregnancy, Proves He'll Be Ultimate DILF
Rencontres de Cinema
George Clooney is becoming a father of twins at the age of 55, and he couldn't be more charming about it.
In a recent interview with Laurent Weil on the French program "Recontres de Cinema," the actor opened up for the first time about his wife Amal Clooney's pregnancy.
(Warning: This interview has a French translation dubbed over it. If you don't want a headache and/or don't speak French, I suggest just scrolling down to see my transcription.)
Rencontres de cinéma du 19/02 - Spécial césar
Clooney said,
It's exciting! We are really happy and really excited. It's going to be an adventure. We've sort of embraced it, all the changes in our lives with arms wide open.
Clooney also shared that while his and Amal's friends were more than supportive when the couple broke the news, some of them who had already been through the whole "raising children" gambit before couldn't help but crack a few jokes.
Clooney said,
All my friends who are my age, or many of them, have already done this... We had a table of eight guys, and all their kids are away in college... They were all very supportive... Then it got really quiet and they all just started making baby crying noises. The whole table busted up laughing.
This is both a charming story and a fun insight into the kind of dad jokes George Clooney's friends tell.
We first found out Amal is expecting twins two weeks ago when "The Talk" host Julie Chen broke the news. (Just a week after Beyoncé announced she, too, is expecting twins.)
A few days later, Amal opened up about the news herself in an interview with Radar Online, where she confirmed the sex of the two newest Clooney family member: a boy and a girl.
Amal said,
It will be one of each! Yes, a boy and a girl. That's what I've been told. How marvelous! My husband and I are extremely excited.
Amal and George have been married for nearly three years now, and this will be their first (and second) child.
Twins seem like a big change for a man in his 50s, but don't worry, Clooney is ready.
He told Weil,
It's going to change a lot of things, but that's OK. That's life.
Citations: RENCONTRES DE CINEMA ET SORTIES PREVUES (Recontres de Cinema)