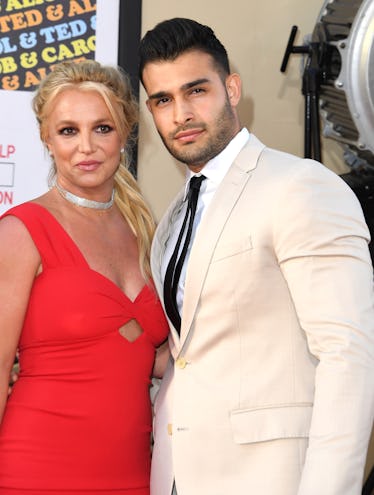 Britney Spears & Sam Asghari's Relationship Timeline Is Too Cute For Words
Steve Granitz/WireImage/Getty Images
Though Britney Spears has spent the majority of her life in the spotlight, her four-year relationship with Iranian model and personal trainer Sam Asghari is amazingly low-key. Following the Feb. 5 release of "Framing Britney Spears" (the sixth episode of The New York Times Presents series detailing the #FreeBritney movement), fans are more curious about Britney Spears and Sam Asghari's relationship timeline than ever, but if you're looking for drama, you've come to the wrong place. From their quiet vacations to adorable couple's workouts, Spears and Asghari's life together seems totally chill, and according to Asghari, that's the best thing about it.
"What I love the most about my relationship is the fact that it's so normal. It's not glamorous or anything," he told Entertainment Tonight back in September 2019. "She inspires me in my work and I can give so much to her by going to the gym, by going to work, by having a balanced life. We can get inspired by each other here and there and really grow with each other." You love to see it!
Ever since they met back in 2016, the couple has seemed positively smitten with each other, and here's what you should know about their mutually supportive bond.