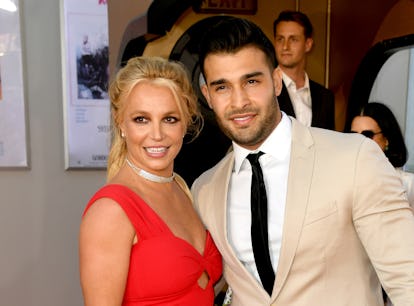 Sam Asghari "Is Still Looking For His Big Break" Amid Divorce, Per Report
The actor is part of the SAG-AFTRA strike.
Kevin Winter/Getty Images Entertainment/Getty Images
Since filing for divorce from Britney Spears, Sam Asghari is reportedly attempting to focus on his career. ICYMI, on Aug. 17, the actor addressed the breakup on his Instagram Stories. "After six years of love and commitment to each other, my wife and I have decided to end our journey together. We will hold onto the love and respect we have for each other and I wish her the best always," he wrote, adding "sh*t happens." Per a source, Asghari is now looking to further his acting career — something that has been put on hold due to the SAG-AFTRA strike.
"He's jobless," a source told Page Six on Aug. 29. "He doesn't have any acting gigs lined up at the moment." Asghari, who has played small roles in shows like Hacks and NCIS, is reportedly "still looking for his big break."
In the meantime, it seems like the actor is finding some humor in his current situation. On Aug. 19, he asked his followers to help him pick out his "paparazzi disguise" amidst the media storm of their divorce announcement. On Aug. 16, TMZ first reported that Spears and Asghari separated after over a year of marriage. Sources confirmed their breakup to People that same day, stating it's been "very toxic between them for a long time." Asghari ended his initial statement on Aug. 17 by asking everyone for "privacy" and "to be kind and thoughtful."
Two days later, per People, he joked on his IG Stories, "Help me choose paparazzi disguise 🤔," alongside a series of wigged selfies. On Aug. 22, he opted to skip the wigs, but donned a baseball cap and sunglasses as a disguise for a dog walk in Pasadena, California. He also didn't wear his wedding ring for the outing.
As for Spears, she shared her perspective on the situation on Instagram on Aug. 19. "6 years is a long time to be with someone so, I'm a little shocked but … I'm not here to explain why because its honestly nobody's business," Spears wrote. "But, I couldn't take the pain anymore honestly !!! ...You're supposed to be loved unconditionally … not under conditions !!!! So I will be as strong as I can and do my best !!! And I'm actually doing pretty damn good !!!""
It seems this separation might've been on the horizon for a while. In the Aug. 16 People report, multiple sources said Spears and Asghari's relationship had been "struggling for months." Another source echoed a similar comment to the outlet, saying: "Their marriage has been on the rocks for months. There has been constant drama. It's sad. A divorce would be devastating for Britney."
While the source didn't reveal the reasoning behind their reported drama, rumors of marital issues have followed the couple since earlier this year. In March, Asghari and Spears were seen without their wedding rings. Spears never addressed her decision not to wear her ring; however, Asghari's manager revealed he removed his band because he was filming a movie at the time.
The former couple first met on the set of Spears' 2016 "Slumber Party" music video, where Asghari starred as her love interest. They began dating shortly afterward, and the Blackout singer hard launched their relationship in a sweet Instagram post in January 2017. That same month, Spears told AMP 103.7's Fast in the Morning with Nathan Fast and Sybil Summers she "made the first move" after spending time with him on set.
"We were sitting there and we were waiting together for 20 minutes at a time, so we were basically forced to talk to each other," she said, per People. "I found his number in my bag. I was like, 'He is really cute, this guy is really cute.' So I called him and ever since then, he is just a really fun, funny person."
Thus began seven years of the duo flaunting their romance on social media, with Asghari supporting Spears as she worked to end her 13-year conservatorship. Even after its successful termination in November 2021, Asghari publicly defended his wife from those looking to "exploit her pain" through unlicensed documentaries. The duo eventually tied the knot in a backyard wedding at their California home in June 2022.
Before Asghari's latest divorce statement, those close to the couple subtly reacted to the sudden news. According to E News, Jamie Lynn Spears reportedly liked People's Instagram post announcing the couple's separation.
This article was originally published on