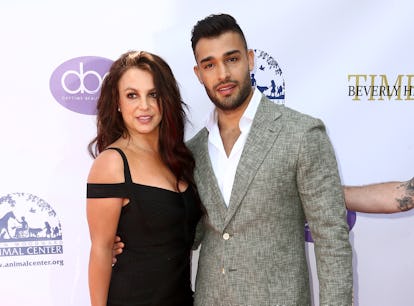 Britney Confirmed Her Breakup With Sam In An Emotional Note
"I've been playing it strong for way too long."
Tommaso Boddi/Getty Images Entertainment/Getty Images
A couple of days after reports that Britney Spears and her husband Sam Asghari were filing for divorce, Spears confirmed the breakup rumors in a lengthy Instagram message. "Hesam and I are no longer together," Spears wrote, using Asghari's legal first name. "I've been playing it strong for way too long and my Instagram may seem perfect but it's far from reality." Spears didn't get into the specifics in her note about her divorce from Asghari, but hinted that the couple had been struggling for some time before reaching the decision.
Spears broke her silence on the breakup rumors by sharing an Instagram message on Friday, Aug. 18, a couple days after TMZ first broke the news that she was splitting up with her husband of one year. "6 years is a long time to be with someone so, I'm a little shocked but … I'm not here to explain why because its honestly nobody's business," Spears wrote beneath a video of herself dancing to "If" by Janet Jackson. "But, I couldn't take the pain anymore honestly !!! In some sort of telepathic way I have been receiving so many messages that melt my heart from friends and I thank you !!! I've been playing it strong for way too long and my Instagram may seem perfect but it's far from reality and I think we all know that !!! I would love to show my emotions and tears on how I really feel but some reason I've always had to hide my weaknesses !!! If I wasn't my dad's strong soldier, I would be sent away to places to get fixed by doctors !!! But that's when I needed family the most !!! You're supposed to be loved unconditionally … not under conditions !!!! So I will be as strong as I can and do my best !!! And I'm actually doing pretty damn good !!!"
Asghari also confirmed the breakup in a message on his Instagram story a day earlier. "After 6 years of love and commitment to each other, my wife and I have decided to end our journey together," Asghari wrote. "We will hold onto the love and respect we have for each other and I wish her the best always. Sh*t happens."
Spears and Asghari first met in 2016 when he starred in her music video for "Slumber Party." They started dating soon afterward, and tied the knot in the summer of 2022 in an intimate backyard wedding.