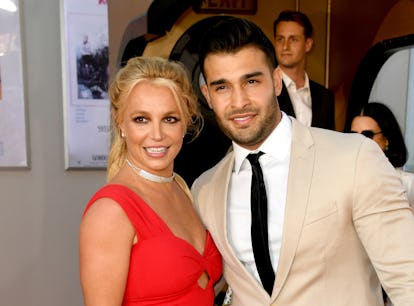 Sam Asghari Calls Out People For Using Britney As A "Money-Making Machine"
He seems to be referencing TMZ's upcoming documentary on Spears' conservatorship.
Kevin Winter/Getty Images Entertainment/Getty Images
The #FreeBritney movement might be in the past, but that's not stopping companies from creating content about Spears' unsettling conservatorship. This is a rather tricky scenario, as these documentaries have helped to shed light on the singer's 13-year legal arrangement. However, it appears the majority of these films were made without Spears' authorization. Many fans believe it's odd to see people cashing in on a tumultuous period in her life without considering her input, including her husband Sam Asghari. He recently voiced that frustration on Instagram.
On May 14, Asghari shared a video of him defending Spears on his Instagram Story. He began the clip by stating he doesn't want to "speak on his wife's behalf," but he proceeds to do so. The actor called out those who told Spears' story without her consent, stating their behavior was "absolutely disgusting." "How are you gonna take the most influential person of our generation — the princess of pop, America's sweetheart — and put her in prison, where her father tells her what to do, what water to drink, who to see, and use her as a money-making machine?" He said.
Spears was originally placed under a conservatorship in 2008, where her father James P. Spears (also known as Jamie) was in charge of her mental health, physical health, and financial decisions. After countless social media campaigns calling for Spears' release, the Circus star went to trial and was freed from Jamie's care in November 2021.
Asghari then directed his attention to those who are still hounding Spears after the end of her conservatorship. "And then all of a sudden, after 15 years, when she's free after all [that] gaslighting and all those things that went down, now you're gonna put her under a microscope and tell her story? No. That's also disgusting, so don't do that."
It's not clear who Asghari is referring to when speaking about placing Spears back "under a microscope." However, there's a chance he could be calling out TMZ, who recently confirmed they're producing a documentary — titled TMZ Investigates: Britney Spears: The Price of Freedom — about the singer's "future in the music industry" now that she's freed from her conservatorship.
Asghari continued in his video, informing people to not "believe what you read online." "Those [articles] are click-baits for you to click and for them to make money," he said, stating he will no longer "allow" false narratives to spread about his wife.
The actor's video comes a month after Entertainment Tonight reported that Spears was "nearly finished with her memoir." A source told the outlet her book will feature "everything you think she will talk about and more" and that "she is not holding back" on telling her truth.