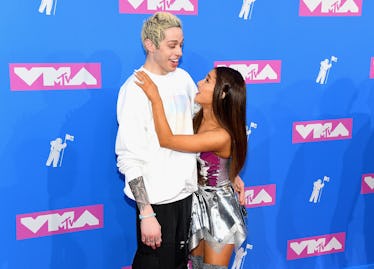 Ariana & Pete's Red Carpet Body Language Reveals They're "Hot & Heavy"
Nicholas Hunt/Getty Images Entertainment/Getty Images
For those of you who missed the memo, something huge happened last night at the MTV VMAs. Yes, a lot of great artists put on a lot of great performances, but the real showstopper, as far as I'm concerned, was Ariana Grande and Pete Davidson's award show debut. The two took on the pink carpet together and crushed it just like we all expected them to. And, according to an expert, Ariana Grande and Pete Davidson's VMAs body language confirms that they're just as in love as we thought they were.
Some backstory here: Grande and Davidson got engaged earlier this summer after dating for just a few short weeks. Grande had recently gotten out of her long-term relationship with Mac Miller and Davidson had gotten out of his with Cazzie David. While the two have been super public about their relationship on social media and in interviews, this was their first time making an appearance as a couple at an official public event.
So, naturally, we had to get a body language expert to tell us everything she could possibly decipher about their relationship based on the images.
"Wow, these two are hot and heavy," Traci Brown, body language expert and author of Persuasion Point, tells Elite Daily upon first seeing the images of them entering the award show. "It's rare to see such PDA on the red carpet." She's not wrong. The pictures are super hot and heavy, and each one gives us another clue into their relationship.