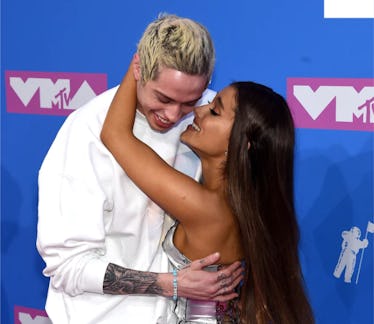 This Tiny Detail On Pete Davidson's VMAs Outfit Shows His True Love For Ariana Grande
Jamie McCarthy/Getty Images Entertainment/Getty Images
A lot of big things are happening on the 2018 VMAs red carpet, but sometimes, it's the little things that count — like Pete Davidson's "AGD" Bracelet at the 2018 VMAs. In this specific instance, wearing Ariana Grande's initials around his wrist is a romantic gesture that speaks louder than words. By donning the letters AGD, he's pronouncing both his love and support for his fiancé. But this sweeping romantic gestures are nothing new when it comes to this couple — the two recently broke headlines for having known that they wanted to marry each other after a single day of knowing each other.
While everyone knows that Grande and Davidson got engaged, erm, a little quickly — in an interview with GQ, Davidson recently revealed that marriage was mind much earlier than you'd think. According to the comedian and actor, the day the two first met that he looked her in the eye and told her, "Hey, I'll marry you tomorrow." Bold, right? I think so, but apparently Grande was already smitten. She reportedly called his bluff, thinking that he was just being flirtatious and funny — you know, as stand-up comedians tend to be. But things got slightly more serious with his next text.
Davidson claims that he then proceeded to send her a picture of a variety of engagement rings, followed by the question, 'Do you like any of these?" Luckily for Davidson and Grande, their fire chemistry was already starting to reveal itself: the rings sent in the photograph were apparently Grande's very favorite kind. So how did SNL actor respond to this utterly climactic, movie scene moment? "I was like, 'Sick,'" the actor told GQ. Well, you know what they say: Everyone has their own love language, and theirs is not ours to judge!
So yes, these two have essentially been engaged since literally day one. But I've got to admit, while Grande's $3,000 3-carat pear diamond-cut engagement ring is nice and all, it's not the cutest accessory this couple is rocking on the red carpet tonight. Davidson's adorable "AGD" bracelet certainly doesn't look at expensive and shiny, but the sentiment behind it makes it priceless in our eyes. And the accessory matches his eyes — especially when he's looking over dotingly at Grande. Swoon.
So we only have one question left: When's the wedding?! Well, luckily Davidson hinted in the same interview that his upcoming nuptials with Grande are one more thing we have to look forward to, but exercise patience for. It's "Definitely going to happen, for sure... ," Davidson said in his GQ interview. "All I know is that I'm the luckiest guy in the world." Hey, Pete — it looks like Ariana's pretty blessed herself. Until then, we'll have our eyes peeled to the 2018 VMAs screen, watching these love birds whisper sweet nothings into each other's ears.
Check out the "Best of Elite Daily" stream in the Bustle App for more stories just like this!