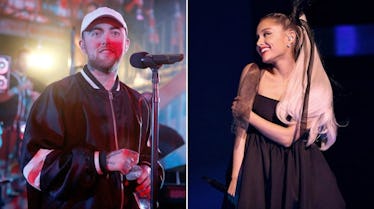 All The Lyrics About Mac Miller On Ariana Grande's 'Sweetener' Prove She's "Better Off"
Dale Berman/Getty Images Entertainment/Getty Images & Kevin Winter/Getty Images Entertainment/Getty Images
It's here everyone! Ariana Grande's latest album Sweetener hit the public on Friday, Aug. 17, and people are going wild for it. Fans are desperate to find out: Which songs are about Mac Miller? Which songs allude to her now-engagement to Pete Davidson? Which songs include one of those wild voice-trill things she does so well? The truth is, there are a bunch of lyrics fans think might be about her ex-boyfriend Miller, and the internet is having a field day breaking them all down. The potential Sweetener album lyrics about Mac Miller will make you feel all the feelings of the ups and downs of a relationship.
While Grande is now deeply involved with fiancé Davidson, it wasn't that long ago she and Mac Miller were serious #couplegoals. The duo was together for nearly two years before they made the seemingly mutual, amicable decision to break up at the beginning of May. Weirdly enough, both Grande and Miller followed up with album releases just a few months later. Grande's is, of course, Sweetener, and Miller's is called Swimming. Miller's tracks definitely have some clear lyrical winks to his ex-girlfriend, and it looks like Sweetener is going in a similar narrative direction.
Here are just a few of the lyrics fans think Grande might have wrote about him. In the slower track "Better Off," the pop star sings of what appears to be love lost:
My love'll have you fall to your knees / I tell them this too often / Know better than to bark up my tree / Just for me to fall and leave / Nah, I'd rather just watch you smoke and drink, yeah
She goes on to declare:
Steering clear of any headaches to start / And if we're being honest I'd rather your body than half of your heart / Or jealous-ridden comments / That come when you let in them feelings that I don't want / I never let 'em know too much / Hate gettin' too emotional, oh, yeah I'm better off without him / I'm better off being a wild one / On the road a lot, had to keep it a thousand / So that I'm better off not being around ya
In addition to "Better Off," there's a possibility that the song "Everytime" is alluding to Grande's former musician flame. The lyrics lament not being able to give up on a relationship and "fight" the strong emotions that come with it, even if it's not necessarily working and ends up being self-destructive. Ari sings on the pensive R&B track:
I get tired of your no-shows / You get tired of my control (yeah) / They keep telling me to let go / But I don't really let go when I say so
The catchy chorus launches into further depth:
You get high and call on the regular / I get weak and fall like a teenager / Why, oh why does God keep bringing me back to you? / I get drunk, pretend that I'm over it / Self-destruct, show up like an idiot / Why, oh why does God keep bringing me back to you?
Miller and Grande announced their split back in early May. Grande defended the breakup on social media later that month after a Twitter user blamed her for Miller's alleged DUI. A portion of her statement read:
How absurd that you minimize female self-respect and self-worth by saying someone should stay in a toxic relationship because he wrote an album about them, which btw isn't the case (just Cinderella is ab me)
Elite Daily reached out to Mac Miller's team for comment on the claims Grande mentions in her post.
Despite her rocky relationship past, it appears Grande is in a better place now. One listen of Sweetener is all anyone needs to get the feeling she's happy these days.