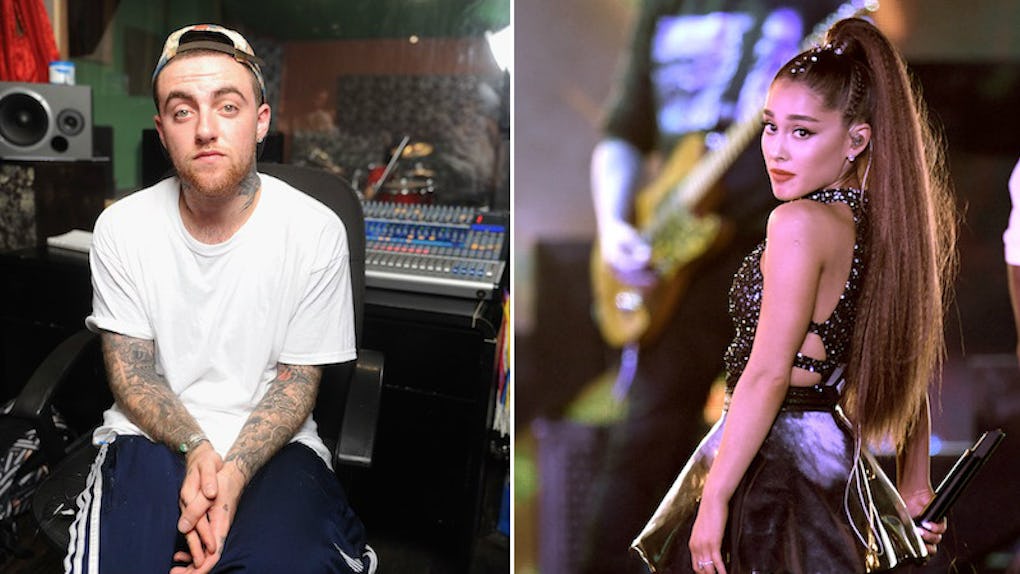 Jamie McCarthy & Kevin Winter/Getty Images Entertainment/Getty Images
These Mac Miller Lyrics About Ariana Grande From 'Swimming' That Prove He Was Deeply In Love
The past several months have been a whirlwind for Mac Miller. He's been busy working on his latest album, Swimming, all while rebounding from his breakup with pop-queen Ariana Grande. Fans were originally stunned to find out their two-year relationship had come to an end, but felt optimistic considering it seemed to be an amicable, mutual split. Shortly thereafter, Grande jumped into an engagement with Saturday Night Live star Pete Davidson and Miller seemed to be in a downward spiral, crashing his car in a DUI incident. Now, these Mac Miller lyrics about Ariana Grande from Swimming give fans a little closer look into how the rapper is feeling about it all.
Miller's fifth album dropped on Friday, August 3, and has a refreshingly open and emotional vibe. He doesn't really seem "angry" so much as introspective. As HipHopWired.com put it, it has "more melodies than bars" because "a breakup will do that to ya." Fans are obviously combing each precious word for an allusion or hint into how he's feeling about Grande and what might have gone down in their relationship. Some of the track titles alone are pretty loaded. Songs called "Self Care," "Come Back To Earth," "Hurt Feelings," "What's The Use?," and "So It Goes" are ripe for relationship-analysis.
My quick assumption is Miller knows he was on a little bit of a toxic partying rollercoaster and Grande always helped bring him back down to earth. Here are a few lyrics fans are linking to their relationship.
"Come Back To Earth"
In my own way, just feel like living / Some ultimate reality / And I was just drowning, but now I'm swimming / Do stressful workouts to relief / Yeah, all the thing I do / And spend a little time in her / What I won't tell you
Anytime he refers to a "she" or "her" it's easy to point towards Grande. In these lyrics, it sounds like Miller saw his time with Grande as relief and a break from his otherwise wild lifestyle.
"What's The Use?"
I'm so above from beyond you take drugs to make it up / Way up where we on, space shuttle, Elon / Time we don't waste much, fuck and we wake up / Then have her sing just like Céline Dion
First things first, Ariana Grande can sing. Like, really, really sing. Secondly, she's regularly impersonated other famous vocalists on stints like SNL and The Tonight Show with Jimmy Fallon, including Céline Dion. Coincidence? Hell nah.
"Perfecto"
Bare feet, runnin' late, her car started / Even though the only thing that she driving a hard bargain / More important is I'm kinda sorta out the door but / She put me back together when I'm out of order
After Miller's car accident, haters unfairly blamed Grande and their split as the cause behind his erratic behavior. She shut that down by sharing the following message:
"I am not a babysitter or a mother and no woman should feel that they need to be. I have cared for him and tried to support his sobriety & prayed for his balance for years (and always will of course) but shaming/blaming women for a man's inability to keep his shit together is a very major problem. let's please stop doing that."
These lyrics could be in reference to the efforts she made to help him stay grounded during this volatile time.
"Dunno"
She do whatever she like / And that just don't seem right, yeah / Make people so mad, yeah / And want her so bad
Well I was busy when you hit my phone / But you miss me, tell me come back home, yeah / You don't really like to sleep alone / But I'm takin' too long, I'm always takin' too long
I wanna see them lips, kiss 'em ear to ear / I wanna hear your song / Ooh, I wanna feel just how you feel / Touch it one more time so I know you're real / We could spin that wheel, wouldn't you rather get along?
I mean, let's just be real. Who else could he possibly be talking about in these lyrics? Surely he must be talking about an impending breakup when he says "touch it one more time," and it's not like he was dating anyone else that we know of in the recent months.
In general, the album is... I don't know... chill? Strangely relatable and easy to listen to? Plus, it's totally refreshing that Miller can address his feelings regarding his breakup without throwing Ariana under the metaphorical, celebrity breakup bus.
Fans will be pleased to see Miller seems to be coming out the other side of this extreme time of changes. You can listen to the whole album and make your own assumptions on Spotify or clicking the link below.