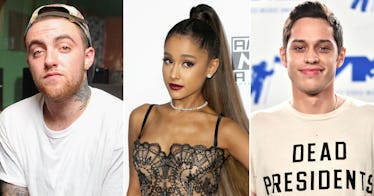 Mac Miller Opened Up About Ariana Grande Moving On With Pete Davidson & He's So Mature
Jamie McCarthy/Getty Images; Frederick M. Brown/Getty Images; Alberto E. Rodriguez/Getty Images
I know everyone was all in on Mac Miller and Ariana Grande during their two-year relationship, which is why we all have major whiplash from the sheer speed and velocity her relationship with Pete Davidson took off after her breakup with the rapper. I'm a little bit like, "Mac Miller who?" You know? While the press has certainly been wrapped up in Grande and Davidson's relationship, some folks are looking out for Miller and wondering how the hell he's doing with all of this. The truth is Mac Miller's comments about Ariana Grande and Pete Davidson's engagement show he's handling it all pretty freaking well, TBH.
Not today, haters.
If we're talking timelines, it's easy to assume Miller might have some negative feelings about the way everything went down. In May, Grande announced her split to Miller on social media writing, "Unconditional love is not selfish. It is wanting the best for that person even if at the moment, it's not you." Everything seemed pretty respectful and mutual right up until Mac Miller drove under the influence, crashing his car into a pole and landing himself a DUI. Obviously, people jumped to conclusions and blamed the accident on his failed relationship with Grande. While Grande did an amazing job squashing that BS, Miller remained quiet about his feelings about her and her new boyfriend. Just one month later, Davidson and Grande got engaged and the days of Ariana Grande and Mac Miller were squarely in the past.
Now, it's the end of July and Miller is finally commenting on Grande, their breakup, and her new fiancé for the first time. On Monday, July 23, Miller appeared on Apple Music's Beats 1 hosted by Zane Lowe. During their conversation, Miller commented on what it's like to be in a high-profile relationship and how he could sort of see this series of events coming. He said, "You know, that's the other thing is with the relationship thing is, like, the internet is wild. I kind of knew, but not really."
However, he isn't resentful. In fact, he doesn't even seem that upset about it. Miller's take on how his and Grande's relationship unfolded and then eventually unraveled is really very mature. "Of course there were stressful times. It's not that unique," he said. "You know, like, I was in love with somebody. We were together for two years. We worked through good times, bad times, stress, and everything else. And then it came to an end and we both moved on. And it's that simple, you know."
Some fans have assumed the rapper has been in somewhat of a downward spiral because he's stayed fairly quiet since the accident and Grande's engagement. However, Miller says that's not the case at all. In reality, he's simply been preparing to release his new album, Swimming. He explained:
Like, I haven't been on the internet. So, you know, people have assumed that I'm ... 'Are you OK? Is everything OK?' Because I was about to drop the album. And also, like, I don't know, it just all seemed kind of unimportant, the need to show people I was OK. Like, what is that? Where does that come from? Why? Why do we have this need to use social media and the internet?
As for his feelings on his ex, Miller says he's got nothing but love. "It's strange. Like, the whole thing is a little strange," he admited. "But, it's not negative. It's just a part of something that's going to continue to help make me who I am. You know, it's all positive energy. I am happy for her and moving forward with her life just as I'm sure she is with me."
Wow. Who knew there'd come a time when I would be taking notes from Mac Miller on how to be an adult? It just goes to show nothing is ever as it seems. Sometimes Ariana Grande and Pete Davidson are engaged, sometimes I'm taking cues from a 26-year-old rapper on how to be a poised, controlled human. It's the circle of life.