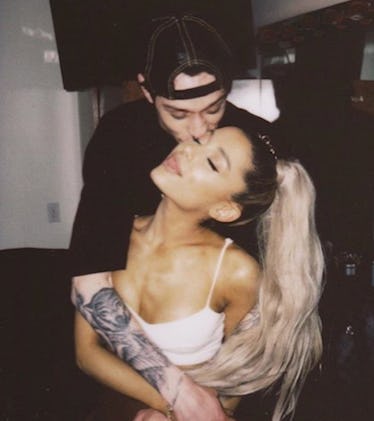 The Moment Ariana Grande Knew She Would Marry Pete Davidson Will Shock You
Ariana Grande / Instagram
We're no strangers to Ariana Grande and Pete Davidson's whirlwind romance: it was the first in a string of quickie celebrity engagements (looking at you, Justin and Hailey, and Nick and Priyanka), but it's clear to pretty much everyone that the love they have for each other is real (and also maybe contagious). And, while promoting her new album, Sweetener, on The Tonight Show Starring Jimmy Fallon, Grande filled us in on a little behind-the-scenes gossip of how she basically predicted the fate of her relationship. Yep, Ariana Grande's story about predicting she'd marry Pete Davidson will make you wonder whether or not she's a fortune teller, because she pretty much called out her future before it even happened.
During her chat with Jimmy Fallon, Grande talked about how it all panned out after Fallon asked when the couple first started dating, and if they met on Saturday Night Live.
"We met on SNL like two, three years ago, whenever that was, and we never like, exchanged numbers or anything," Grande told the talk-show host. "We weren't even, like, friends for the longest time, but I had the biggest crush in the whole world on him the whole time, like forever. Like, my friends used to make fun of me for it and all that stuff."
OK, that's low-key adorable, but I digress.
Fallon asked if she ever said anything to him, to which Grande replied, "No, of course not," because c'mon, who openly admits to their crush that they've got feelings for them?
No thanks, I'd much rather prefer that my crushes didn't even know I existed, thank you very much.
But when Jimmy Fallon said, "Did you ever think to yourself, like, hey, one day I'm gunna...," alluding to the fact of Grande getting together with Davidson, and her response is so damn precious. She said:
I, like, left his writer's room when we were, like, writing skits and stuff for the show, and my tour manager, Roshad [Ismail] was in the hallway. And I'm not a crush-y person, I don't have, like, crushes on people I don't know. I'm not crush-y, but I left and I jokingly said to my tour manager, 'I'm marrying him, 100%.' I was like, 'I'm literally marrying him.' We weren't even friends, I didn't see him at the after-party, like none of that.
Yes, you guys. Ariana Grande called it! She told her manager that she was gunna shack up with Pete Davidson years before it actually happened. Years before they even got together!
It's either fate, or sorcery, or both.
She also talked about the song, "Pete Davidson," off her Sweetener album, and revealed that she wrote it within days after the two first starting seeing each other. "[I wrote it] like a week after we started hanging out. I just made it and sent it to him. I didn't know what to call it, so I just called it 'Pete'."
Damn, Ari! But hey, I guess when you know, you know.
But Jimmy Fallon said it best when he told Grande, "I've known you for forever and I've never seen you more happy." That right there is all we need to know, folks.
So a big congratulations to Pete Davidson and his wizard-like, future-predicting lady on being so damn adorable.