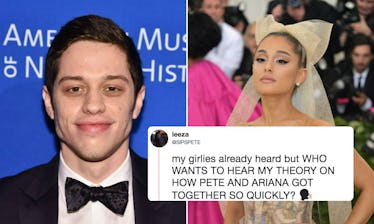 Fans Have A Theory About How Ariana Grande & Pete Davidson Met & It's Convincing
MICHAEL LOCCISANO/GETTY IMAGES ENTERTAINMENT/GETTY IMAGES | NEILSON BARNARD/GETTY IMAGES ENTERTAINMENT/GETTY IMAGES
We know they both have a thing for Harry Potter. And we know he dropped almost $100K on her huge AF pear-shaped engagement ring. But what we don't know is this: How did Ariana Grande and Pete Davidson meet? The adorable couple is reportedly getting married, even though they've only been together a few weeks, and their relationship seemed to legit come out of nowhere. Elite Daily reached out to Grande and Davidson's teams about the engagement rumors, but did not hear back by the time of publication. Anyway, is this all a little sus? Maybe. But it's also kind of the dream, am I right? I guess I just love these two together so much that I totally ship it, even though I still have so many questions. Luckily, one fan on Twitter is sharing a theory that the romance between the pop star and the actor-slash-comedian actually goes way back to when Grande was the musical guest on the Season 40 premiere of Saturday Night Live in 2014, and I have to admit, it's all pretty convincing.
A Twitter user named "leeza" who runs a Davidson fan account hit up her feed on June 1 to share her premise in a series of tweets. So here it is, in its entirety:
"My girlies already heard but WHO WANTS TO HEAR MY THEORY ON HOW PETE AND ARIANA GOT TOGETHER SO QUICKLY?"
"Ok SO the pair first both met at the season 40 premier [sic] of SNL where Ariana was a guest and it was Pete's first ever episode and at the time she was dating Sean and he was single, I think there was something there but either way they remained friends since then."
"Sources say they've always kept in touch have been at the same events together."
"When Ariana came back on SNL in 2016, Pete met Cazzie 2 episodes before and she was seeing Ricky at the time so the timing was not right but they literally wrote Pete's part into her monologue so they were friends."
Here's a screenshot of the two of them from that 2016 appearance, BTW:
"The timing was never right for them but I think when Ariana had enough with Mac, it was the same time when Cazzie and Pete broke up (they broke up a week after or before Mac and Ari i dont remember)."
"And her and Pete must have definitely been talking even more at the time because all of sudden she started liking a bunch of his older IG photos."
"To sum it up: the timing was never right for them and when they realized they were unhappy in their other relationships, they realized they should have been together and the feelings were still there so that's why they got together so fast! thank you for coming to my ted talk."
LOL Ted Talk. This theory is a good one, right? I actually love it so much and hope it turns out to be true, because it's all just so romantic. And even if it's not totally accurate, I kinda don't really care how these two got together, just as long as they stay together. Because what kind of world would it be without this type of adorableness to aspire to?
Like, seriously, how freaking cute are they?
But what on earth are we calling these guys — Pariana? Arete? Gravidson? Davande? None of those names are really doing it for me, so I think I'm just gonna go with Pari for short.
Also... do Sarah Hyland and Wells Adams know about this coupling yet? Because it looks like Pari is going to give them a serious run for their money on October 31, so they better start planning their Halloween costumes ASAP.
I just wanna go on record as saying that I am personally here for a Harry Potter-themed wedding for these two. Now I just gotta figure out how to score an invite.