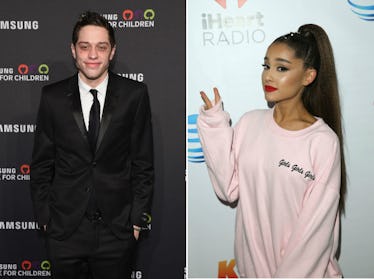 Ariana Grande & Pete Davidson Are Actually Way More Connected Than You Think
Jesse Grant/Getty Images Entertainment/Getty Images | Bryan Bedder/Getty Images Entertainment/Getty Images
If you're like me, you were completely flabbergasted by the news that Ariana Grande and Pete Davidson are currently dating. When the story broke on May 21, lots of people were understandably confused and some were even dismayed. I mean, they seem like such an unlikely couple. But you know what? Ariana Grande and Pete Davidson are actually more connected than you think.
So, how do they even know each other, anyway? Was it Grande's appearance on Saturday Night Live in 2016 that started it all? Did they come together through mutual friends? Was it just plain old fate?
Luckily for you, I've done some investigating on my own and compiled all my findings right here. So, let's get started with some basic questions:
How Did They Meet?
By all accounts, Grande and Davidson first crossed paths on Saturday Night Live in March 2016. Grande was hosting the show and, of course, Davidson was there to welcome her to the SNL family.
There's even some video of the very first time they were on camera together. Basically, Grande gave her introductory monologue and Davidson joined her on stage at the tail end of it. The encounter was light-hearted with, of course, some humor thrown in.
Upon his appearance on stage, Davidson said, "Hey, Ariana. I overheard. Do you, like, want to smoke some pot or something?"
Grande snapped back with, "Pot? Let's smoke some crack, man."
So, yeah, that was a pretty interesting exchange to say the least. The two were all smiles during the whole thing, which kind of makes you think there was a spark even then!
Who Introduced Them?
The thing about answering this question is... no one really knows! It could have been so many different people. But all signs are pointing to Amy Schumer possibly being that person.
According to the New York Daily News, Grande attended Amy Schumer's SNL after-party on May 12. While there were plenty of stars out that night, including Kacey Musgraves and Jason Hartley, one name in particular stands out: Pete Davidson.
So, as early as May 12 — a full week before Grande and Davidson's relationship became tabloid fodder — the two young stars were at the same after-party, and seemingly hitting it off.
An insider source recently told Us Weekly that Grande was hanging out with Davidson AND his mom:
Ariana was hanging out with Pete and his mom at the SNL afterparty at Zuma on May 12. Ariana is very happy.
I'm not entirely sure what to make of this, but it seems like they already knew each other at this point if Grande was hanging out with Davidson's mom. And that leaves me with yet another question…
What's The Real Connection Between Them?
Let's consider the details surrounding this relationship. First, Grande split from her longtime boyfriend Mac Miller, which was reported on May 10. Just a few days later, on May 16, it was reported that Davidson split from his girlfriend Cazzie David. Then, on May 21, news of the Grande-Davidson relationship went public.
But, wait. Let's back up. According to Us Weekly, a source close to Grande said she and Miller split back in April:
Ariana and Mac officially broke up after Coachella weekend, but ultimately the relationship had been over long before. Ariana was holding Mac together for a long time and it wasn't a good relationship for her.
So, that leaves just a few weeks open for Grande and Davidson to come together. In all likelihood, the two met up in late April (just after Coachella) and started talking.
But they probably didn't start anything romantic until weeks later because Davidson's ex-girlfriend was still posting photos of them together.
Here's one she posted on May 3:
In checking Davidson's Instagram, there's literally nothing to indicate when he and Grande might have gotten together. But seeing as the announcement of his breakup with David came just 13 days after David posted that photo above, I'm guessing Davidson and Grande got together in early May.
Whatever went on behind the scenes, these two have tangled a complicated web!