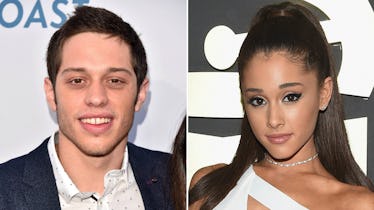 Pete Davidson Just Revealed When He Knew He Wanted To Marry Ariana Grande
Alberto E. Rodriguez & Larry Busacca/Getty Images Entertainment/Getty Images
Pete Davidson has fully won me over, y'all. It's not that I didn't like him before, it's just that he wasn't as high up on my celebrity radar. Even he admits the media has taken a stronger interest in him ever since he got engaged to a "super-famous person." His romance with Ariana Grande has spiraled out into one of our generation's most publicized obsessions, and learning the details about their relationship is, to put it simply, really fun. Many fans might be asking, "When did Pete Davidson propose to Ariana Grande?" Honestly, the answer shouldn't surprise you. (Hint: Right away.)
Davidson recently sat down for an interview and fashion spread with GQ magazine and got really candid about courting Grande. While neither Davidson nor Grande have confirmed when their first real meeting was, they likely first bumped into one another when she appeared on his show Saturday Night Live in 2016. However, they didn't officially start dating until the summer of 2018. According to Davidson, it was love at first sight. He told GQ, "The day I met her, I was like, 'Hey, I'll marry you tomorrow." And yes, he was serious. "She was calling my bluff," he said. "I sent her a picture [of engagement rings]. I was like, 'Do you like any of these?' She was like, 'Those are my favorite ones,' and I was like, 'Sick.'"
I gotta be honest. I kinda love this story. Regardless of your personal opinions on either celebrity, you must admit their adoration for each other is sweet as hell. Davidson said they're "having a really fun time" together playing house in their shared Manhattan apartment. According to the publication, Grande purchased it for $16 million. Davidson said,
She's really sweet. She's like, 'This is our house,' and I'm like, 'You're very nice for saying that. Thank you for letting me stay here.' She's like, 'We're getting married!' And I'm like, 'I know, thank you for letting me stay here.'
According to Davidson, they're doing the whole grown-up living thing a little backward. He explained, "It's like, we have six bean bags, but we have no forks — you know what I mean?"
Honestly? Six bean bags in a $16 million Manhattan apartment with two celebrities? That sounds freaking awesome. According to those closest to Davidson, he's "the happiest he's ever been." SNL co-star and friend Chris Redd joked, "I'm surprised he even puts clothes on. If I was that happy, I wouldn't even wear clothes! I'd just walk around naked living my life all the time."
Davidson seemed to agree and mused, "The universe works in weird ways," adding, "All I know is that I'm the luckiest guy in the world." He also says he and Grande aren't sure when the wedding will be, but that it's "definitely going to happen, for sure."
Grande recently released a sweet video of her fianc-baé rattling off his top five favorite songs from her impending album, Sweetener, scheduled to drop on Friday, Aug. 17.
Very strangely enough, the song dedicated to him, titled "Pete Davidson," came in second place. According to Davidson, it pales in comparison to her single "God Is Woman" which, as he puts it, "f*cks hard."
Love is wild, isn't it?