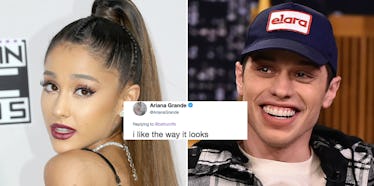 Ariana Grande Changed The Name Of Her Song For Pete Davidson, But It's Not What You Think
Frederick M. Brown/Theo Wargo/Getty Images/Twitter
Ariana Grande's fourth studio album is dropping in just a little over two weeks. The album is probably her most anticipated one yet, as it's her first since the Manchester terrorist attack that occurred at her 2017 concert at the Manchester arena, an experience that inspired Sweetener's theme of healing. She's released bop after bop leading up to the release of the album. There's one song on Sweetener, in particular, that has her stans pretty divided — "Pete." Sweetener's tracklist revealed that there's a song dedicated to the "No More Tears Left To Cry" singer's new fiancé, Pete Davidson, on the album (which some fans hate, some love), but the name of the song has been changed now. So, why did Ariana Grande change her Pete Davidson song title?
Before you ask if the song was changed because of some drama between the two stars, it ain't that deep. She hasn't wiped the song from the album and this isn't the beginning of the end of their whirlwind relationship. Nope, she changed the name from "Pete" to "Pete Davidson," you know, just in case people were confused about which Pete she could be talking about.
Grande explained to a curious fan why she changed up the title of the song dedicated to her fiancé on Twitter. The fan asked, "what made you change 'Pete' to 'Pete Davidson,'" and her answer was actually really romantic.
"I like the way it looks," Grande's response started. "I love his name and i love him. music lasts forever. it'll outlive any tattoo, any memory, any anything, even myself so i want my love for him and how i feel to be a part of that." That's actually... making me really emotional? Ari, don't do me like that!!
On July 20, a fan on Instagram commented on one of Grande's posts saying they thought Grande making a song for Davidson was a mistake. Grande, having none of this, responded saying, "He's my fiancé. This is my album. I'm an honest and emotional artist and human being and if my openness in my work isn't for you, that's OK; I won't be offended. Still wishing y'all all the love in the world."
Another fan said to the singer that they were excited to hear the track, saying "their love is so true and kind." Grande thanked her for the nice words, responding, "Thanks. It's a special song about the most special human being I've ever met. Also, the song is sick. Thanks for your kindness."
Don't kill Pete and Ari's vibe!!
The new info about the "Pete" name change came when Grande went on a responding spree on Twitter on July 30. She likes to tweet at her fans frequently to talk about their lives, her music, the album, her life, etc., and she gets really open about her life on these sprees. One fan tweeted at the "No Tears Left To Cry" singer asking, "how's pete? is he having fun w his movie? I MISS HIM." (They probably miss him because he deleted everything from his Instagram and doesn't post on it anymore.)
Grande tweeted back, "aw that's so sweet , he's crushing it and i'm so f*cking proud of him," adding, "it's a really dope movie." The movie she's talking about is Big Time Adolescence, which he's starring in alongside Machine Gun Kelly.
You'll be able to listen to "Pete Davidson" when Sweetener drops on August 17.