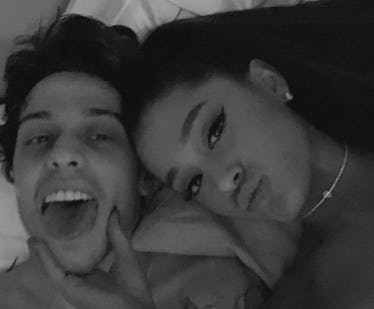 Pete Davidson Explaining His 5 Favorite 'Sweetener' Songs Shows He's A True Arianator
Ariana Grande on Instagram
Ariana Grande's fourth album is coming out at the end of this week and the singer has been posting on Instagram and Twitter about how excited she is for Sweetener to drop for the entire month of August. But her most recent video is one of her cutest promotions yet, and it naturally involves her fiancé, Pete Davidson. The video of Pete Davidson sharing his favorite Sweetener songs is adorable (and low-key annoying, but mostly adorable).
Grande posted the video on Aug. 12 with just a smiley face as the caption. She asks Davidson to list his favorite songs from the album and he starts off by going on and on about "God Is A Woman," saying it "f*cks hard" and "slaps hard, dude," and I can't help but laugh at the way he says it all. Grande can't either, but we're def laughing for different reasons. He continued, "That, and then my song, which is called 'Pete,' which is pretty sick 'cause that's me." Grande has a song dedicated to Davidson on the album called "Pete Davidson." It was originally called "Pete," but she recently expanded the title. But that inconsistency, plus his visibly brown hair in the clip (which he recently bleached blond), suggests this video was filmed a while back.
Next, he said "R.E.M" and "Sweetener" are his next favs before saying "Better Off" is "sick."
Like a good future husband, he then says he loves all of the songs on the album. Meanwhile, Grande is giggling like a middle schooler with a crush throughout the whole video.
"R.E.M" is actually a song that was originally sung by Beyoncé, according to a demo of the song on YouTube. When the demo was made, it was originally called "Wake Up." It was apparently supposed to be on Beyoncé's 2013 self-titled album, but it was scrapped and now it's been picked up by Grande and will be on Sweetener when the album drops on Aug. 17.
The above video wasn't posted to Beyoncé's official YouTube channel, but it's clear that it's Beyoncé singing on the track.
Grande posted a video previewing the song to her Twitter on Aug. 10 saying, "one week :)."
Grande is listening to "R.E.M" in a car while she takes a selfie video. The lyrics in the clip go, "If you can believe / Such a dream to me," and her vocals and the music behind it are just as dreamy as they are in the Beyoncé demo.
According to the Sweetener Instagram page, the album's tracklist goes a little something like this:
1. "Raindrops"
2. "Blazed"
3. "The Light Is Coming"
4. "R.E.M"
5. "God Is A Woman"
6. "Sweetener"
7. "Successful"
8. "Everytime"
9. "Breathin"
10. "No Tears Left To Cry"
11. "Borderline"
12. "Better Off"
13. "Goodnight And Go"
14. "Pete Davidson"
15. "Get Well Soon"
"Get Well Soon" is about the Manchester bombing, according to Grande herself. In an interview with Elle in July, she said the song is about life after the attack and the song is "all the voices in my head talking to one another." She also told The Fader that she's opening up about her struggles in the aftermath of the attack because her fans who also survived the bombing deserve to feel connected. She said she wants her fans to know there were plenty of "hard times that I have been dealing with for the past year and a half that they deserve to know about because they love me endlessly and care." She continued, "I don't want to hide any pain from them, because I can relate to their pain. Why not be in it together?"
Sweetener drops on Friday, Aug. 17, and Pete Davidson will probably buy the first copy.