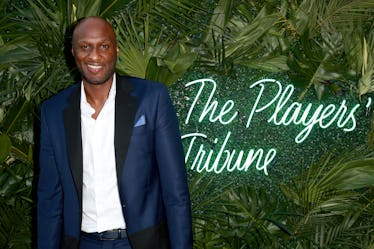 Lamar Odom Opens Up About Relationship With Khloé K Following Pregnancy Reports
Leon Bennett/Getty Images Entertainment/Getty Images
I think we can all agree that we've been excited for Khloé Kardashian and Tristan Thompson since the news broke of Kardashian's reported pregnancy. However, exes can make things messy sometimes. In the case of Kardashian's ex-husband, Lamar Odom, it seems that the two are cordial. Lamar Odom's response to Khloé Kardashian's reported pregnancy is actually so, so nice.
The former basketball player was featured on Complex's Everyday Struggle and decided to open up about his previous relationship with Kardashian.
Although Odom didn't speak directly about the pregnancy, he did admit that he and Kardashian are on good terms "from a distance." People reported when Odom was confronted with the question if he's "still cool" with the Good American designer, he said, "I mean, from a distance." Odom did add,
I wish her well ... Still got love for her.
Odom also gave interesting insight into his relationship with Kanye West, Kim Kardashian's husband and Odom's ex-brother-in-law. He confessed that the two used to be very close, but their relationship has since deteriorated. He said,
Kanye is a good dude. He was there for me when I was in a coma, he was there for me when I woke up. I would say [our relationship] probably deteriorated with all the other relationships that were built. But it's like that sometimes. It'd probably be weird [to contact Kanye now]. But I would have no problem with it.
Odom has always been open about the support he received from Kardashian, West, and the entire family. He revealed that Kardashian remained by his side until he regained consciousness after his overdose incident. He explained during an interview with Dr. Stork,
I didn't know until Khloé [Kardashian] had told me that I was in a coma. I couldn't even speak at the time. I couldn't talk. Nothing would come out when I would open my mouth, so I was scared.
Kardashian is known for her compassionate heart, so her loyalty to Odom comes as no surprise.
Although Kardashian and Thompson started dating in September 2016, Khloé was not officially divorced from Lamar Odom until Dec. 9, 2016, according to E! News. The divorce was put on hold in 2015 when Odom overdosed in Nevada and proceeded after his recovery. Although the two have parted ways, it's great to see that Odom has no ill will towards Kardashian and can celebrate her life milestones.
The news of Khloé's reported pregnancy broke on Sept. 26. The Keeping Up With The Kardashians star has still not officially confirmed rumors, and, as of now, few details are actually known.
Elite Daily reached out to Kardashian's team for confirmation but did not hear back by the time of publication.
Kardashian has been dating Cleveland Cavaliers power-forward Tristan Thompson for more than a year and the two seem very much in love. During the season finale of KUWTK that aired in June 2017, Khloé visited a fertility doctor along with sister Kim.
Khloé ended up getting an ultrasound and the doctor told her it may be difficult for her to get pregnant because she had fewer follicles than someone her age should have. He suggested freezing her eggs and told her that she needed to stop taking birth control pills. As far as having kids with Thompson, Khloe´admitted,
He wants to have about five or six kids with me and that's lovely. We could start at one and we could grow from there. But now knowing I'm not on birth control is scary. It's like a really big step.
However, in the Season 14 premiere of KUWTK, Khloé referenced having kids with Thompson, but what she said wasn't as exciting as fans were hoping. Basically, Kardashian said she might have kids with Thompson "in the next 70 years." Womp, womp.
While I'm hoping the rumors of more Kardashian babies are true, I'm glad Khloé and Lamar are in a place where they can be happy for each other. Wishing the best for both of them.
Check out the entire Gen Why series and other videos on Facebook and the Bustle app across Apple TV, Roku, and Amazon Fire TV.