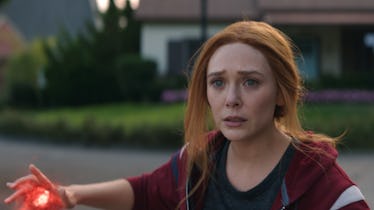 Raise Your Hand If You Still Have Questions After That 'WandaVision' Finale
Marvel
WandaVision went out with a bang, as the nine-episode series closed with a typical Marvel CGI fight scene. But even though Wanda and Agatha battled it out and Hex Vision sparred with White Vision for Vision Supremacy, the show stayed true to its heart, focusing on Wanda's grief and love for her family throughout. After Wanda closed down the Hex and let the residents of Westview return to their lives, she said goodbye to Vision and her children and left New Jersey to start her life anew. But these unanswered WandaVision questions are proof the show's ending didn't tie up everything so neatly.
Fans are especially frustrated by some of these loose ends because WandaVision isn't on track to have a Season 2. Marvel CEO Kevin Feige told reporters he never says never when it comes to the potential of future Marvel projects, but he also said the show was developed as a one-and-done limited series for TV.
Instead, the plan was for WandaVision to lead in to Marvel's main attractions: the movies. If not for the coronavirus pandemic, WandaVision would have been directly followed by the premiere of Doctor Strange & The Multiverse of Madness and Captain Marvel 2. Of course, COVID-delayed movie releases have kind of messed that all up, so the show leaves several open-ended plot threads while fans wait for the follow-ups.
Let's run down all the major loose ends: