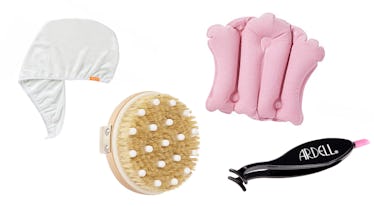 9 Brilliant Beauty & Self-Care Products At Ulta You Never Even Knew You Needed
Ulta
Before the years of beauty gurus and Instagram glam, a stereotypical makeup bag might've consisted of concealer, mascara, and a few blending brushes for your favorite eyeshadow quad. Now, though, there are hundreds — maybe even thousands? — of must-have makeup items and beauty tools that many of us consider standard, some of which others who aren't so into beauty might not even realize exist. Exhibit A are the products I've rounded up below, which, while arguably quite random, are in fact some of the best products at Ulta you never even knew you needed. Some are meant to make your beauty routine easier, while others are extra steps to take it up a notch, and while they might not necessarily be classified as "essentials," I can guarantee you'll have trouble getting through this lineup without wanting at least one or two things.
Let's start off small with the least expensive item on the list: the Ardell Lash Dual Lash Applicator ($5, ulta.com). If you're not a beauty pro, you've probably never heard of a lash applicator — but, if you're not a beauty pro, you probably struggle to put on false lashes when you attempt to don a pair on special occasions, so you're exactly the customer Ardell had in mind when designing this product. Safer than using a standard pair of tweezers or even your fingers, this applicator makes properly placing falsies a breeze, and the one-time $5 investment will have you stepping up your lash game every single time.
Next up is a fun item for anyone into the glorious combination of beauty and self-care: the Daily Concepts Detox Massage Brush ($11, ulta.com). $18 sounds a lot better than shelling out cash for routine massages every few weeks, now doesn't it? This little brush feels like a massage as you run it over your skin, but in all actuality, it's more of a full-body facial: it helps polish away layers of dead skin and stimulate circulation, so skin looks glowy and plump all over. In fact, one reviewer on Ulta's site had this positive feedback to share: "Great for dry rough elbows. Significantly improved my skins appearance! I'm so happy I can now wear short sleeve tops without embarrassment. :)."
What about a little massage action for the face? At first scroll, you might've assumed the Skin Gym Online Only Rose Quartz Crystal Massaging Wand ($23, ulta.com) was mere decor, but guess again. Use this at-home massage tool to spread serum or oils along the face by pressing against skin gently and rolling upwards. Not only will it improve the look of your complexion by getting blood flowing, but the rose quartz itself will promote positive vibes, as the crystal is known for exuding feelings of love and peace.
Maybe you're more of a science-based shopper? The Foreo Online Only Espada Acne Clearing Blue Light Pen ($149, ulta.com) might be more your speed when it comes to skincare tools. This pricy little pen is a spot treatment that utilizes blue light technology and pulsations to target bacteria that causes breakouts on the skin. You might've thought topical creams were the reasonable approach to clearing your acne, but in the name of things you didn't know you needed, I highly recommend considering light therapy to tackle your skin woes.
Maybe you're trying to cut back on the luxury of an in-salon pedi? Now that I've mastered the art of painting my toenails, the only real reason for me to hit the salon is so the pros can treat my coase heels and rough skin. Fortunately, the Amopé Pedi Perfect Extra Coarse Electronic Foot File ($28, ulta.com) allows me to do exactly the same thing at home, so I don't even have to endure the guilt of presenting my less-than-gorgeous feet to an innocent nail tech. This electronic roller removes dead skin and softens heels as soon as it's applied, and has a safety feature that stops it if too much pressure is applied to the skin. There's no razor or blades at work, just a heavy-duty microgranulated surface, and the results are professional pedicure perfect every time.
I'm about to hit you with a very ridiculous, very overdramatic first-world problem: sometimes, when I'm taking a bath, the angle of the tub causes my stretched neck to hurt. I know, my life is so hard! Fortunately, there's The Vintage Cosmetic Company Bath Pillow ($10, ulta.com) to keep me from straining. I wouldn't risk getting my decorative pillows wet in a tub, but the waterproof PVC and terrycloth combination makes this a must-have for all bath-lovers. Plus, it's got suction cups on the back, so it won't slip into the water if you move around.
More of a shower person? You've probably felt some FOMO in regards to relaxing and fun items like bath bombs, haven't you? Luckily, Ulta carries these Ulta Beauty Luxe Aromatherapy Shower Tablets ($8 for pack of four, ulta.com), which are basically bath bombs for the shower. Place a tablet at your feet or on a shower shelf and allow it to get wet, then take in the calming scent of eucalyptus and sage as it slowly fills the bathroom. Seriously, you'll never look forward to a shower more than when you've got these in stock.
What's that? You want a not-neccessary-but-super-helpful product for after your bath or shower, too? Ulta's got you covered! Skip the whole towel-wrapping origami thing and opt for the AQUIS Lisse Luxe Hair Turban ($40, ulta.com) instead. This product speeds up your hair's dry time thanks to Aquitex, a specialized fabric that has water-wicking capabilities and still feels gentle on your hair. Opting for this over a standard towel ensures hair looks less frizzy and prevents future damage — plus, it's a fun headpiece to pair with your fluffiest, coziest robe.
To round out this tempting list of products you didn't even know you needed, I'd like to introduce you to the Earth Therapeutics Hot/Cold Clay Bead Wrap ($15, ulta.com), because no matter who you are, you can benefit from owning this. Microvaving this wrap will provoke the therapeutic aroma of lavender and chamomile, and you can then apply the wrap where you see fit: around your neck, behind your back, et cetera, to get relief. It's basically a reliever for stress and physical pain all in one, and reviewers claim it really works on both accounts. "I use this product every night and it knocks me right out," says one reviewer that relied on the warmth and scent for a good night's sleep. "It's the perfect length for my body and keeps me warm. (One of the reasons why I can't sleep is because I'm cold). This wrap is also great to use for period cramps and on your head for migraines and headaches. I've used it so many times that it's lost it's scent!!"
Honestly, I know I really tempted you with this roundup, but sorry not sorry, because now that you know, your beauty routine can only be improved. I kept this particular list short, but just know there are dozens of other products on Ulta's site that fit the bill as both seemingly random and totally brilliant. Plus, most of these products contain a self care element as well, and really, I find I can justify almost any purchase if I tether it to the notion of self care. With that in mind, happy shopping!