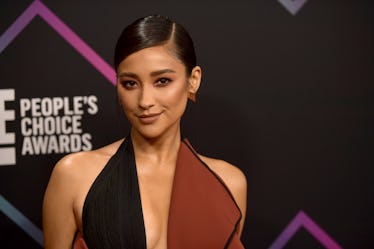 The Way Shay Mitchell Unwinds After Weeks Of Anxiety On-Set Sounds So Relatable
Matt Winkelmeyer/Getty Images Entertainment/Getty Images
How do you decompress? Before social media was up and booming, before I even owned a phone that could connect to the internet, to me, self-care was watching Harry Potter under a pile of blankets and falling asleep on my parents' living room couch. But ever since Instagram became a thing, and influencers started uploading photos of their own lavish wind-down routines — clad with expensive sheet masks, bubble baths, and kitschy essential oil diffusers — R&R doesn't always look relaxing; rather, it often looks time-consuming, and TBH, just expensive. And then there's how Shay Mitchell deals with anxiety; the super chill components of her routine will remind you that self-care doesn't always have to look like a crowded Pinterest board. It's not always glamorous, and it doesn't have to be. After all, your self-care routine is meant to be self-soothing for you; it's not meant to be inspiration for your Insta followers.
Personally, I've always been a little skeptical whenever a photo of bare legs peeking out of a bubble bath veiled in mood candle-lighting made its way into my social feed. The captions are always so whimsical, and I'm well aware that whoever's posting these types of photos is probably trying to spread a piece of wisdom, maybe shed some light on the healing powers of a warm bath, which, granted, I'm all for, and if this is your uploading style, keep doing you. But I just have to ask, how relaxed can you really be? How reflective and calm can you actually feel in that moment if a significant chunk of your self-care time is spent taking glamour shots for social media?
Anyway, that brings me to the lovely Shay Mitchell, and how she likes to wind down from an anxious situation.
Prior to Mitchell landing the lead role of Megan Reed in the mystery-thriller The Possession of Hannah Grace, the 31-year-old actress told Collider that she hadn't really experienced anxiety off-screen. During the four-week movie shoot, however, the actress admitted to the outlet that she'd had "so many panic attacks" that stemmed from a web of emotions, which, she explained, could have come from taking on the role of someone who, in the film, deals with her own anxiety issues, on top of Mitchell's own insecurities IRL regarding where this next chapter of her career might take her. "Getting this role and being in Boston and shooting it, right after coming off of PLL, to then leading this film, there was a lot of pressure," Mitchell told Collider. "I started to lose it a little bit, and I really started to second guess every single thing that I did."
As someone who's been diagnosed with generalized anxiety, I can honestly say that navigating these emotions, and identifying the best ways to cope with them, can be challenging, and it can take a lot of trial and error. The process of calming yourself down, whether you're experiencing just a hint of nerves or a full-blown panic attack, is hardly picture-perfect. And, oftentimes, anxiety can spark at the most inopportune moments, in the most inopportune places — like, say, on a movie set miles away from home.
As per Collider, The Possession of Hannah Grace was shot in Boston, Massachusetts, aka a long way from home for Mitchell, a Los Angeles-based actress. When Collider asked the performer-turned-producer if she was able to step away to collect herself during these moments of anxiety, Mitchell painted a picture of stark confinement; for her, there really was no getting away. She told the outlet,
We were staying in a motel that was five minutes away from the set, and an hour and a half outside of Boston, so we were really confined to a certain area and that played a huge part in my psyche. I wasn't able to go home to the comforts of my own home and shake it off. There was no shaking it off.
So once the film wrapped, Mitchell told Collider she jetted back to California, wrapped herself in a feather boa, and "danced around a bit." She also "watched kitten videos on YouTube," describing the entire experience to the outlet as "a very interesting ride, to say the least."
Now, correct me if I'm wrong, but you typically don't see many snapshots on social media that capture celebs and influencers casually scrolling through YouTube videos for a laugh, or dancing silly in a feathered boa to shake off any bad vibes they might be harboring — and that is exactly what makes Mitchell's coping mechanisms so relatable. They're raw, they're silly, and, most of all, real.
Of course, if your idea of self-care to cope with anxiety does involve soaking in the serums of face masks, enjoying a bubble bath, or painting your toes, that all sounds absolutely lovely, and I highly encourage you turn to these routines whenever you need to. But for those of you who take comfort in the simpler things — a pair of baggy sweats, a pint of Ben & Jerry's, adorable cat videos on repeat — remember that that's perfectly fine, too.