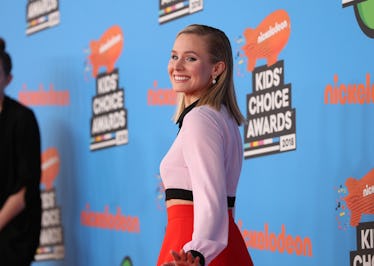 Kristen Bell Got Real About Anxiety & Perfectionism In This Raw Video & I'm Sobbing
Christopher Polk/Getty Images Entertainment/Getty Images
"Celebrities are just like us." How many times have you come across that sentence in magazine headlines, advertisements, as a lead into entertainment news segments? It isn't a false statement, BTW; it's not just something people say to make you feel better about not being rich or famous. Celebrities really are just like you and me, because they're human. And humans thrive, but they also hurt sometimes, so when Kristen Bell talked about anxiety and perfectionism in a video for the nonprofit organization Child Mind Institute, it really hit close to home. It just goes to show no one, not even wildly successful actresses who seemingly have it all, is immune to mental health struggles.
Seriously though, when I say no one is immune, I really mean no one. Anxiety disorders are the most common mental health issue in the U.S., according to the Anxiety and Depression Association of America (ADAA), with over 18 percent of the population (aka about 40 million people) suffering from these conditions every year. Again, this definitely hits home for me personally: I was always an anxious kid, and I was 14 years old when I first struggled with feelings of depression. So when I see celebrities like Kristen Bell opening up so candidly about things like anxiety and depression, it's not only extremely comforting, it also gives me hope.
The Child Mind Institute asked Bell to give her younger self advice on how to cope with anxiety and depression, and her raw, heartfelt message will send a shiver down your spine.
Bell's video is one of many in a series the Child Mind Institute has launched on its website, called #MyYoungerSelf. In this collection of short clips, actors, athletes, and other influencers get on camera, selfie-style, to send a warm, loving note to their younger selves. Dawson's Creek's James Van Der Beek, for example, opened up about his dyslexia, Olympic swimmer Michael Phelps talked about his struggles with ADHD, and Girls actress Lena Dunham admitted to battling OCD, expressing the importance and shamelessness in asking for help.
In Bell's video, the Bad Mom actress states her name, says she's been struggling with bouts of anxiety and depression for several years, and instantly calls out the "game of perfectionism humans play" that is too often the root cause of anxiety today. In the video, she explained,
Instagram, and magazines, and TV shows, they strive for a certain aesthetic. Everything looks so beautiful, and people seem like they don't have any problems, but everyone's human. Everyone has problems. Everyone feels yucky on the inside sometimes.
Though social media outlets weren't exactly a thing when the 37-year-old actress first started battling anxiety and depression at 18 years old, it's a huge factor in why so many young people today are struggling. In fact, TIME reports that, in a 2017 study performed by the UK's Royal Society For Public Health in 2017, Instagram was ranked as the worst social media network for mental health, followed by Twitter, Facebook, and Snapchat.
See, the problem isn't that you're using social media; these apps and websites are awesome for self-expression and connecting with others. The problem is spending too much time on social media: Investing all that time and energy into scrolling through your friends' profiles, or spending hours upon hours finding ways to spruce up your own photos, can trigger feelings of FOMO, and may lead you to compare your real life to someone else's highlight reel, which could just make you feel unnecessarily crummy about your own life.
Of course, someone's life is always going to look like a fairytale when everything they do is edited with flaw-blurring filters, but what Bell is saying is that you have to remember it's all just an illusion. Real life is raw, and sometimes it's emotional, and complicated, and you have to understand that that's OK. Life isn't perfect, and you don't have to be, either.
Anxiety, in any form, is nothing to be ashamed about, and Bell has some great suggestions to help you cope.
In her Child Mind Institute video, Bell encouraged her younger self, and you, to work on self-acceptance first and foremost, because feeling good about who you are starts from the inside and works its way out. The truth, she explained, is that there are plenty of things to be ashamed or embarrassed about in this world, like forgetting your best friend's birthday, not calling a loved one to check in on them when they're sick, or starting a nasty rumor about someone. Navigating through mental health struggles, however, is nothing to be ashamed of, Bell said. She concluded the video by saying,
There are resources out there of people to talk to, and doctors to interact with, and there are tons of solutions out there for you. Never feel ashamed or embarrassed about the uniqueness that is you because there are people out there to help. We're all just human, and you can do it.
Whenever you start to feel alone in your struggles, remember the 40 million others who are going through it all with you (and that's just in the United States alone). The first step is to not feel an ounce of shame for who you are, and what you are feeling. The next step might be to ask for help. Talk to a doctor or therapist to find out what your options are, because there is absolutely nothing wrong with feeling anxious or depressed, but you deserve to feel your happiest when you can help it. And you can — trust me.