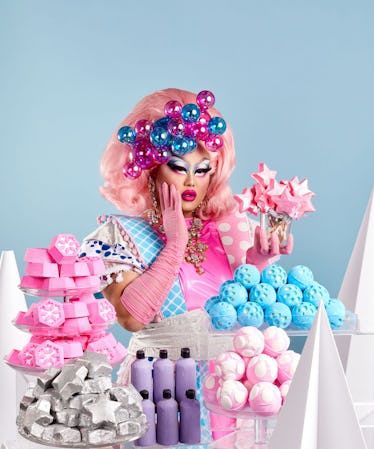 Lush's Holiday Campaign Stars Your Favorite Drag Queens & It's A Gift In Itself
The holidays are all about adding a little extra joy and cheer into life, and a certain cult-favorite cosmetics brand is doing just that via the most incredible seasonal campaign of all time. Lush's drag queen bath bomb campaign is the best early present you could ever ask for and is guaranteed to make you feel all kinds of warm and festive. Featuring Kim Chi, Detox, and Shea Couleé — who are all veteran queens from RuPaul's Drag Race — the "Merry DRAGmas" campaign is as personality rich and excellent as you'd expect. Oh, and the bath bombs the campaign is technically centered on? Yeah, they're pretty great, too.
For the photos, each queen crafted a look that would complement the select array of Lush holiday products that she was assigned to pose with, therefore creating a cohesive visual treat. Detox went vintage glam, Shea Couleé brought out some delicious whimsicality, and Kim Chi got playful in an eyeful of pastels. Looking at the campaign is like a seeing the product of a RuPaul's Drag Race challenge in one single shot, so if you're a super fan of the show (and even if you're not) you're going to be living for it. Check out the shots from the campaign below.
If Detox (RuPaul's Drag Race Season 5, RuPaul's Drag Race All Stars Season 2) looks like your glam grandma in photos of her glory days, that's because she's supposed to. As Detox explained in an interview with Refinery29, "My look is a little vintage and nostalgic. Kind of like 50's glamour housewife, hosting a holiday party… with Lush product." If any of the table's treats are whetting your appetite, here's a list of the product pictured: Lush Perle De Sel Bath Bomb ($6.95, lush.com); Lush Shoot For The Stars Bath Bomb ($6.95, lush.com); Lush Yog Nog Yule Log Bubble Bar ($6.95, lush.com); and Lush Golden Pear Soap ($8.85, lush.com).
Next up is Shea Couleé (RuPaul's Drag Race Season 9), whose shoot is decidedly the most outright festive of the bunch. "I wanted a look inspired by 50's negligees and nightwear that references those 50's silhouettes, but with a little bit of whimsy in there... all out of repurposed materials," she told Refinery29. Whimsy appears in the form of stuffed candy canes protruding from a red, tinsel-like garment, while glamorous crystal globes hang from the queen's ears. In her hand sits a tray of Lush Golden Wonder Bath Bombs ($6.95 each, lush.com) that almost look good enough to eat. If Shea Coulée lived in Whoville, she would definitely win the Holiday Cheermeister Award.
And finally, there's Kim Chi (RuPaul's Drag Race Season 8), who looks like the festive sugarplum fairy of your wildest dreams. "There's a lot of fun vibrant colors, and I tried to mix a lot of prints, textures and colors. So a quilted masterpiece is what I'm serving you," she told Refinery29. She's also serving up an array of six different Lush products: Lush Cheery Christmas Bath Bomb ($5.95, lush.com); Lush Holey Night Bath Bomb ($6.95, lush.com); Lush Snow Fairy Jelly Bomb ($6.95, lush.com); Lush Star Light Star Bright Luxury Bath Melt ($8.95, lush.com); Lush Magic Wand Reusable Bubble Bar ($8.95, lush.com); and Lush Sleepy Naked Shower Gel ($9.95, lush.com).