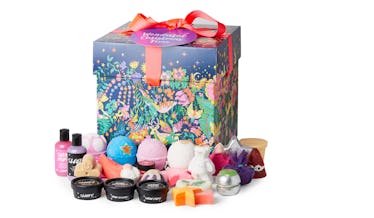 Stop What You're Doing & Take A Look At Lush's Stunning Holiday Collection
Lush
Okay, I understand that it is way too early to even start to think about the holidays (Halloween is still over a month away!) but Lush's holiday 2018 collection is so good that I think you'll want to peruse it ASAP. If you're anything like me then the day after Thanksgiving is when your holiday cheer kicks into full gear, meaning you'll want all of the candy cane and gingerbread men and cranberry and pear bath bombs and scrubs you get your hands on ASAP. Oh, did I mention that this year's collection of products has a ton of food-inspired offerings? It's all kinds of delicious.
To give you a little more information as to what's on the table in terms of treat-inspired offerings, here are a few of my personal favorites. There's the Plum Pudding luxury bath melt, which will let you soak in a scrumptiously scented tub; the Yog Nog Yule Log, which will turn your bath into a mountain of burnt caramel-scented bubbles; the Candy Cane Bubble Bar, which you can lather up for a fresh peppermint scent; the Cranberry Fizz Lip Scrub, which will help you fight chapped lips in fruity form; and the Gingerbread Man Sparkle Bar, which you'll be able to apply to your skin in order to smell like your favorite treat. Is your mouth watering yet?
If you prefer not to be left salivating by your bath or shower, Lush has got your back. From a Rudolph Jelly Face Mask to an array of bath bombs in Santa, ornament, and polar bear form, there's a slew of awesome products to choose from.
One of the coolest things about the new holiday collection is the initiative Lush has taken to help their products be more environmentally friendly. In order to cut back on packaging, they're launching packaging-free versions of a huge assortment of their products. Their coolest offerings to go packaging-free are their lotion and shower gel. Available in numerous scents including Cinders, Butterbear, Once Upon A Time, and cult-favorites Snow Fairy and Sleepy, their naked shower gel bar will bubble and cleanse when used in the shower, while the naked lotion bar can be rubbed directly onto skin for moisturizing benefits If you prefer, you can still buy them in liquid form.
Lush is also debuting the Naked Charity Pot Hand and Body Lotion. Made from ethically sourced ingredients including ylang ylang and rosewood oils which are mixed into and Fair Trade organic cocoa butter sourced from Lush's community agriculture project in the Democratic Republic of Congo, the products are good in more ways than one. 100 percent of the sales price of the items will go to grassroots organizations working to support human rights, animal welfare and environmental conservation across the world. This is the perfect example of a gift that would keep on giving.
The collection will also offer gift sets of all sizes, so if you get overwhelmed trying to pick out which products to send to friends and family, you can let Lush do the hard part.
And just remember: 'tis the season for giving, but 'tis also the season for self care. Make sure to get yourself a little treat while you're at it.