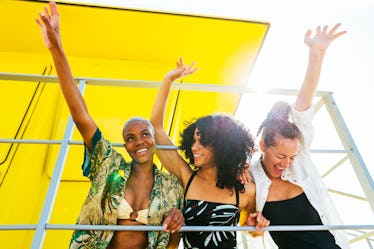 7 Reasons Why The Summer Is The Best Time To Be Single, So Soak Up The Sun
Chances are, you've probably heard of cuffing season — a time of year from October through February when people eagerly pair off in order to have a hibernation partner to snuggle during the colder months. Well, one might say that summer is the anti-cuffing season. In fact, there are a ton of reasons why the summer is the best time to be single.
Need proof? Facebook data from 2010-2011 revealed that people are least likely to be "in a relationship" (according to their status) between May and August. And is anyone surprised? After all, there is a slew of perks to riding solo in the summertime. (*Cue: "Young, Wild and Free" while you cruise to the beach with the top down).
To be clear, there are benefits to being single any time of year. But during the colder season, you may find yourself longing for a Valentine, a date to your company holiday party, or a midnight kiss on New Year's Eve. Or maybe you're just more likely to lament your single status when nosy Aunt Judy starts interrogating you about your personal life at the Thanksgiving dinner table. Once the weather heats up, however, you may very well find yourself grateful that you're unattached. Because honestly, who needs extra body heat in their bed when it's pushing 90 degrees, anyway? Here are a few more reasons to celebrate your single status this summer.