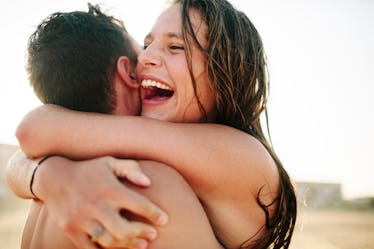 Why The Start Of Summer Is The Perfect Time To Start Dating Someone New
Greetings, from almost-summer! Much like Ronnie Magro of Jersey Shore's Season 1 declaration, "My only rule: Never fall in love at the Jersey Shore. Never, ever. Ever. Ever," I often feel that summer is a time for prioritizing enjoyment over seriousness, especially when it comes to dating. However, with age, I have realized that Ron Ron is not who I want to be looking to for life advice, and that summer is just another season. Start your engines, because guess what? I actually think that summer is the perfect time to start dating someone new.
Meeting someone wonderful in early June should not be a threat to your summer, but instead, an excellent accoutrement. Whether you are traveling every weekend, or stuck in your city for the next three months, dating is possible during the summer. It's just a bit more challenging. And don't we all love a challenge? Yass!
Since I do not believe that dating someone should be equated with "having a ball and chain that holds you back from every fun," I think that it is perfectly possible to start dating someone new this summer, and still have an excellent time. From outdoor date ideas to the general giddiness everyone starts feeling as the weather warms up, here is why I think summer is the perfect time to meet someone new.