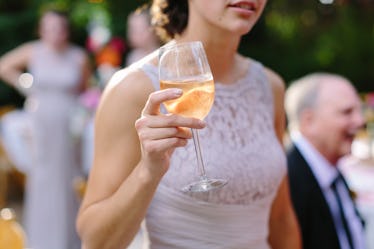 Weddings Are The Best Places To Meet Single People & Here's How To Make It Happen
Everyone knows how to play Facebook roulette. It's when you scroll through your Facebook feed, hopelessly trying to avoid engagement announcements and wedding photos posted by people you haven't seen or spoken to since your high school graduation. Seriously, who has time to attend these things if someone you know gets married every weekend? I mean, the entire wedding is pretty much documented online anyway so why go? The answer, of course, is for personal gain. Those optimistic wedding guests have figured out how to meet someone at a wedding and I'm here to tell you how you can do it, too.
First, you've got to ditch the professional wedding date. Trust me. You don't need them. I know this adorable meet-cute worked out for Debra Messing in the aptly-titled movie, The Wedding Date, but real life is nothing like rom-coms of the 2000s. I learned that the hard way.
Once you've gotten over the idea that you have to take a date to every wedding you get invited to, you'll find that attending weddings when you're single isn't as traumatic as you expected. In fact, it's actually kind of fun and did I mention packed with opportunity? Nothing like a day dedicated to celebrating true love to make you and everyone else on the guest list sink into their feels.
Catching the bouquet to ensure a trip down the aisle is a myth but these five tips to meet someone at a wedding are the real deal.