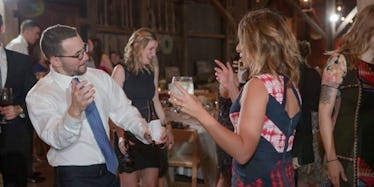 10 Things I Learned From Being A Professional Wedding Date
Facebook
As I drove up the same familiar stretch of the New Jersey Turnpike, I turned to my girlfriend and said,
How many times do you think we've gone down this road in the last two years?
She replied,
No less than a thousand.
We were on our way back from yet another wedding weekend, this time in Baltimore.
I call them "wedding weekends" because in the past 24 months I've been to weddings in Baltimore, Virginia, New Hampshire and Long Island, meaning driving out from Hoboken, New Jersey on a Friday and not returning until Sunday afternoon at the earliest.
Fun fact: I also go with #weddingweekend in every Instagram photo I post from these events.
Now, before you scream, "Going to a wedding with your girlfriend isn't being a professional wedding date," let me just say I've been to no less than eight weddings with my girlfriend where I didn't know a single person there.
So, trust me when I say I've got this.
The very first wedding I accompanied my girlfriend to was in Portsmouth, New Hampshire. We were celebrating the marriage of one of her close friends from high school, which meant I didn't know a single person in attendance.
Though I went into that wedding feeling like the new kid in school, I left with an understanding and confidence I didn't think possible. New Hampshire opened my eyes to becoming a better conversationalist, a better dancer and a smarter drinker.
Since then, there have been plenty more opportunities to hone those skills a whole lot more. So, here's what I've learned as a professional wedding date.
1. Find others who might be in similar situations as yourself.
That first wedding in New Hampshire was made more challenging by the fact my girlfriend was a bridesmaid -- aka I had to find some friends for Friday and Saturday because I would barely be in contact with my lady. Luckily, I opened myself up and met a few dudes who were in the same boat.
We drank beer, watched soccer and ate pub grub in the hours leading up to the wedding, which only made the night more fun and me look like a hero in my girlfriend's eyes.
This task of making friends was more difficult at other weddings, for sure, but at least I had this foundation and knowledge to build on.
2. Moderate day-drinking in the hours leading up to the wedding is fine, but make sure you get a nap in.
When I'm going out on a normal Saturday night, I typically have a rule against day drinking, simply because I won't make it to the evening. But when I'm "away" for the weekend at a wedding, let's get it.
3. Make sure to never exceed two or three strong drinks during cocktail hour.
This is pretty self-explanatory, but it doesn't mean it should be taken lightly. I've been on that shuttle bus with the folks who are puking because they went too hard. Don't be that person, ever.
4. Tip your bartender(s) early, and you'll be set for the evening.
It doesn't take much; a ten-spot after your first cocktail and you and your date are pretty much set for the evening. If a crowd forms at the bar in between courses or songs, you'll be good to go once eye contact is made.
Another word to the wise would be to learn at least one bartender's name. "Hey Pete, can I get another Kettle on the rocks with a splash of olive juice?" (Don't you dare judge my beverage of choice.)
5. There's nothing wrong with being the first one on the dance floor.
To hell with the fact I didn't know anyone at the wedding. If I wanted to have a good time, you best believe I grabbed my girlfriend's hand and got up on that dance floor. Plus, everyone loves the couple who is doing their part to make sure the wedding is kickass.
6. Engage in conversation with everyone at your table.
I wish every wedding was more dancing and less sitting at a table, but it's not always like that. It'll make the night a lot more fun and relaxed if you engage your tablemates and see what's Gucci. Everyone has a story to tell. It might surprise you to meet new people and gain a little perspective.
Just make sure you have a fresh drink for when you have to sit through speeches, ceremonies, conversations or dances you can't participate in.
7. As crazy as a wedding can be, find the time to introduce yourself to the bride and groom.
Because the bride and groom are my girlfriend's friends, I thought it my duty to, at least, introduce myself to them. Plus, it's never a bad look for others to see you talking to the stars of the show, right?
8. Never, under any circumstances, be the most intoxicated guest in attendance.
Look, what's a wedding without booze, right? However, there are levels to this sh*t, and I never wanted to embarrass myself or my girlfriend by being the drunkest one at the party -- especially because I didn't know anyone at the start of most of these affairs. I'll leave that level of sh*tfaced for my best friends' weddings, thanks.
Weddings are marathons, not sprints. We're talking cocktail hours, receptions and after-parties. Pace yourself.
9. Never be intimidated talking to people who are outside of your tax bracket.
I remember one wedding in Baltimore, in particular, where I really felt out of place. Not only did I not know anyone, but I also felt like every guest was either a doctor or in finance. But, a little alcohol for liquid courage helped me stop thinking I wasn't good enough.
In the end, it was all in my head. Were most of the guests wealthier and more powerful than me? Absolutely, but so what? I let my conversation be my hedge fund.
10. Enjoy yourself, but make sure you remember who brought you in the first place.
Weddings are what you make them. Despite going to more weddings than I ever dreamed of, I've learned you have to still make each one special for you and your date. How often do you throw on a suit, tux or gown and dance?
Take that attitude, or else it's just two four-hour drives in the span of 60 hours.