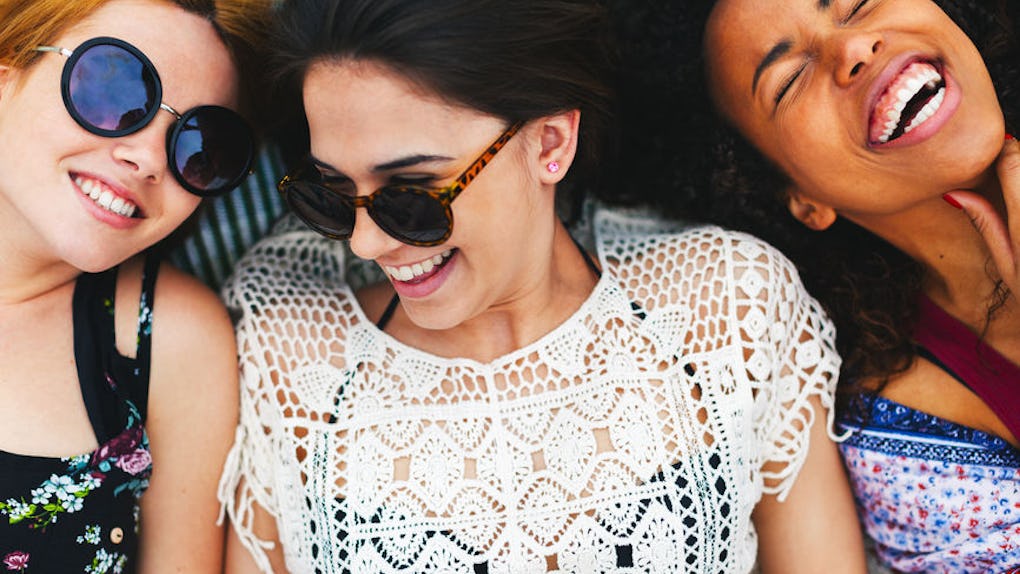 BonninStudio/Stocksy
10 Things To Do With Broke Friends This Summer For Priceless Memories
Summer makes you want to embrace every adventure that comes your way, and even when your pockets are pretty much empty, you can still make the most of this sunny season. A successful summer really isn't measured by how much money you spend, but rather by how you decide to spend your time and who you decide to spend it with. So, if you and your favorite people are strapped for cash, here's a list of fun things to do with broke friends this summer that'll leave you with unforgettable memories.
You want to live your best life while there's plenty of Vitamin Sea to go around, am I right? Well, that's not going to happen if you're busy dwelling on the fact that you and your favorite people are broke. Make the best out of your current situation without thinking about how much is in your wallet. I mean, were you thinking about money as a kid when you were running through the sprinklers in the front yard and stargazing on the sand, having the time of your life? I highly doubt it.
You don't need pennies, nickels, or dimes in order to have the kind of change you're yearning for this summer. You and your friends are fully capable of changing up your agenda with little to no cost to you guys. Be sure to scatter these 10 activities around your schedule, so you can spread the wealth — aka, good times.
1. Have A Potluck Picnic In The Park
Pick out your favorite local park, and make it a potluck lunch. Have your squad bring their favorite snacks, some cozy blankets, and a device to stream the chillest summer beats. Oh, and make sure you make use of those swings and monkey bars.
2. Create A Summer Scrapbook
I'm bringing it way back with this one, but you'll thank me afterwards. Making a summer scrapbook with your friends is something sweet you can keep forever. And when those bitter winter months are in full-swing, you can look at this gem and let it be your little ray of sunshine. Summer, please don't leave us ever, OK?
3. Look For Free Live Music Events
Many restaurants, parks, and business try to incorporate live music into their summer festivities. Lucky for you, they're often free, and your friends might even get introduced to a cool new band. Free music is the best kind of music, am I right?
4. Have A Summer-Themed Movie Marathon
You and your friends all have your favorite movies. Whether it's a horror or a romantic comedy, you all can be couch potatoes as you host a movie marathon. I don't know about you, but I'd sit and watch Harry Potter movies all day.
5. Prepare A Home Cooked Meal Together
Cooking is not only delicious, but it's affordable if everyone pitches in. Pin a yummy recipe or two on Pinterest, and hit the kitchen. It won't only be perfect bonding time, but you'll also get to enjoy your finished product together. Set up a little picnic in the backyard with string lights to taste your masterpiece once it's complete.
6. Take Turns Giving Each Other Makeovers
Obviously, you are all beautiful in your own way, but it's so much fun to focus on one friend at a time and become a makeup guru for the day. Get those glittery summer eyeshadows and iridescent highlighters ready to slay. You guys are going to take some unforgettable summer selfies.
7. Volunteer
Don't know what to do with your free time? Scope out a few volunteer projects with your friend crew. Whether you head to an animal shelter or help clean up a local park, you'll feel so good knowing that a few hours of your day benefited an organization in a tremendous way.
8. Catch A Free Movie In The Park
Movies in the park are almost like the drive-in, except you get to snuggle in a cozy blanket on the grass. You and your friends can experience the big screen outdoors under the stars. Make sure to get there early so you can get a solid spot.
9. Take A Bike Ride Down The Boardwalk At Sunset
These days, you have access to rent bikes at the beach or near the boardwalk. Cruise your way through the crowds and let the wind rolling off the waves, blow through your hair. There's so much to see on a simple bike ride up the boardwalk, so be sure to bring your Polaroid along for the memories.
10. Go Hiking
Mother Nature hardly costs you anything, unless you're trying to rent a dope lake house for the weekend. As far as hiking goes, the only entrance fee is a little wanderlust and longing for adventure. Pack your backpacks with plenty of water, snacks, and other necessities, and go for whatever trail feels right.
It's OK if your pockets aren't as full as you wanted them to be this summer. You can make up for it by filling your memory bank with priceless times.