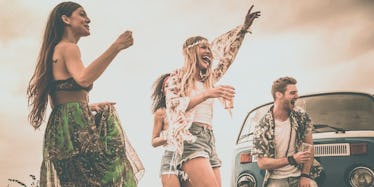 10 Ways To Have An Epic Summer When You're Young, Broke And Open To Adventure
Shutterstock
As much as many of us can't wait to embrace summer with open hearts and the trendiest of sun hats, there's one thing that may be holding us back.
Unfortunately, our *cringing* wallets don't share the same amount of hype for the upcoming season as our hopes and desires.
The struggle is so dang real when you're a young, spontaneous soul who also happens to be broke AF.
Here are 10 ways to still have the absolute time of your life this summer when your wallet is empty, but your soul is open to anything.
Cross as many things off of your bucket list as you'd like…
1. If the shore is your happy place throughout the summer months, plan as many beach days as possible. Park your booty in the sand and soak up some rays.
2. Round up the squad and plan a hike with your dogs. Pack your backpacks with snacks, boxed wine and Milk Bones (of course)... and relish the view from the top.
3. Instead of dishing out money you don't have on tickets to a festival, plan a festival-themed party in your backyard. Complete with awesome music, glitter hair and boozy snow cones, this party will be the ultimate summer bash.
4. Bring the spa to your home. Whip up some sangria, make yourself a bubble bath to relax in (with bath bombs, of course) and indulge in a juicy romance novel.
5. Make a picnic lunch at home and hit up a winery with your friends. Split the cost of a couple bottles of wine, bring cards to play drinking games and get your camera ready for a day of fun.
6. Get involved with your community and sign up for volunteer work. You'll meet tons of new people along the way, all while contributing to something incredible that truly feeds your soul.
7. Research the cheapest Airbnbs around you, and book a trip. If you don't have enough money to spend on an entire week, plan for a long weekend getaway to a beach or nearby city (with the crew, of course).
8. Instead of going out to dinner, plan a casual barbecue at a beach or park in your area, complete with games like volleyball and corn hole.
9. Get all of your friends together to organize a pizza-making competition. Split up into teams, whip up delectable pies and let the most delicious pizza win.
10. Plan a scavenger hunt throughout your city or hometown. Don't forget to wear team colors to amp up the competition.
Although many of us broke queens and kings out there may not be able to jet off to Fiji or the Maldives over the next couple of sizzling months, we WILL have the ultimate summer, all while letting our wallets relax a little.