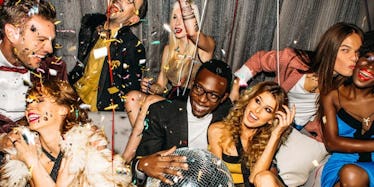 The 10 Best Party Cities To Visit When You're Broke And Paying Student Loans
It's no secret locations like Ibiza, Mykonos and Amsterdam offer some of the craziest places to party on the planet.
However, there's just one problem with these renowned party cities.
These places can be pretty expensive, so if you're like most young people on an entry-level salary, you'll probably end up blowing your travel budget on a single night out.
However, just because you're not ballin' doesn't necessarily mean you have to spend your vacation at a boring, desolate beach resort with a bunch of old retirees.
It turns out there's actually a lot of travel destinations that offer top-shelf nightlife experiences at bottom-shelf prices.
From legendary bars and clubs, to world-renowned pool parties and beach raves, there are all sorts of budget-friendly destinations that serve as the perfect place to get lit AF.
Let's be real: Who needs to spend a week getting a little r&r on a beach when you can spend your vacation blacking out at foam parties and perfecting your poolside keg-stands?
Check out some of the top party cities you can visit on a budget:
1. Berlin, Germany
Berlin has long been known as a city filled with artists and musicians. Therefore, it should come as no surprise it has a carefree attitude toward partying — not to mention booze that fits the budget of a starving artist.
Berlin is home to a wide range of epic bars and nightclubs that keep the party going well past sunrise.
Plus, you can also find warehouse parties, rock venues and underground techno clubs that will have you raging harder than ever before. Just make sure you bring your dancing shoes and prepare to be hungover AF during the daylight hours.
2. Barcelona, Spain
Barcelona is no stranger to amazing parties.
You can find reasonably-priced drinks at most of the bars and clubs in Barcelona, and the people in this city love to dance until the wee hours of the morning.
Barcelona is also known for throwing some lit afterparties on the beach, so you're guaranteed to have a good time here.
The top-notch nightclubs tend to be a bit pricier than the bars, and they usually charge an entry fee, so if you're planning to party at a high-end nightclub, make sure you pre-game beforehand and bring a little cash for the cover charge.
3. Budapest, Hungary
If you're looking to go on a serious bender in Budapest, the city's infamous "ruin bars" are the place to be.
This prime party spot consists of abandoned buildings and vacant lots that have been transformed into all sorts of eccentric bars that are insanely fun.
You'll find different types of decorations and music in each ruin bar, not to mention tons of inexpensive alcohol.
If you're looking to wet more than just your whistle, you can throw on a bikini and head over to Budapest's natural spring baths for an epic nighttime dance party afterward.
4. Goa, India
Goa is often called the Ibiza of South Asia thanks to it's beautiful beaches and legendary nightlife.
However, partying in Goa costs a lot less than turning up in Ibiza.
Goa's party scene caters toward every type of reveler, whether you're looking to booze at a beach shack, dance beneath neon palm trees at a psy-trance club, turn up at the bars along Tito's Lane or rage all night long at a psychedelic beach party.
If getting a good night's rest isn't one of the things on your itinerary, you can find DJs spinning electro music nonstop at Goa's 24-hour beach raves.
Or, if you're down to try something new, hit up a "silent noise" party, where revelers wear headphones and jam out to the music of their choice.
5. Prague, Czech Republic
Prague is a stunning party city that boasts beautiful people and even more attractive alcohol prices.
If you're looking to knock back beers, the city is home to all sorts of cool bars and breweries that offer premium lagers that won't break the bank.
Prague also has a bunch of awesome clubs scattered throughout the city, including the five-story Karlovy Lázně, the biggest nightclub in Europe.
Plus, you can take your blackout to a whole new level by swapping out the usual vodka soda for some shots of absinthe. Need I say more?
6. Lagos, Portugal
If you're looking to relive the glory of your college days on a college student kind of budget, Lagos is where it's at.
This stunning Portuguese city is best know for its insane party hostels and wild guests.
No really, I'm not kidding. Hostels like The Rising Cock will basically make you feel like you're at a college dorm party on steroids.
Aside from having some of the craziest accommodations around, Lagos also boasts a variety of booze cruises, pub crawls and beachfront parties that do not disappoint.
7. Belgrade, Serbia
Belgrade is often dubbed as the party capital of the Balkans since this city offers awesome nightlife, turnt parties and cheap booze.
It also doesn't hurt that the people who inhabit this city are all insanely good looking, either.
If you're looking to go bar hopping, you'll find a variety of bars and pubs in the Skadarlija district that serve as the perfect place to get wavy.
You can also find a prime party spot with a nice view of the city by checking out Belgrade's river clubs.
8. Montevideo, Uruguay
Montevideo is a hidden gem that is often overlooked by party-seeking travelers.
This South American city has a vibrant nightlife scene that is bustling with Latin music and lots of dancing.
Montevideo offers something for every type of partier, whether you're looking to drink cheap beer at taverns and beach bars, or turn up at trendy lounges and clubs without going completely broke.
If you're the outdoorsy type, in that you like to get shitfaced outside, Montevideo is also known for having some pretty epic sunset parties on their pristine, white-sand beaches.
Did I mention that this place also throws one of the longest carnival celebrations in the world?
9. Pag, Croatia
Pag is the perfect escape for people who want to party hard on a paltry budget.
This small Croatian island has a seasonal nightlife scene that thrives during the summer.
The island's most popular party spot, Zrće Beach, boasts a handful of superclubs that offer everything from pool parties complete with jacuzzis and waterslides, to bass-pumping performances from famous DJ's and, most importantly, lots of insanely cheap booze!
If you head down to the crystal clear waters, you'll find a mix of beach parties, bungee-jumping, party boats and inflatable catapults. Plus, Pag is known for throwing some pretty dope foam parties.
10. Koh Phangan, Thailand
Koh Phangan has become a hotspot for fun-seeking foreigners thanks the island's lit AF full moon parties.
One night each month, thousands of people flock to Haad Rin beach to celebrate the full moon by raging all night long.
On the beach, you'll find neon-paint-covered partiers dancing around bonfires, watching fireworks and knocking buckets, yes buckets, of cheap fruity cocktails.
Plus, if you're feeling daring, you can test your intoxicated agility skills by jumping the the Full Moon Party's infamous "rope of fire."
Just try not to kill the party vibes by burning half of your face off.