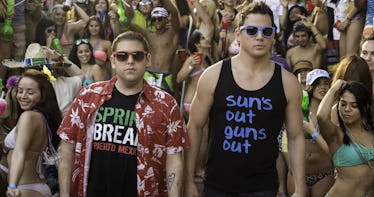 Travel Hacks So You Can Have An Epic Spring Break On A College Budget
Columbia Pictures
Spring break is the perfect time to round up your squad and escape to a sunny island before finishing up the rest of the semester.
But, as you know, having fun in the sun for a week doesn't always come cheap.
All those little spring break expenses can add up quickly -- between your flight, hotel room, bikinis and booze.
Before you throw in the beach towel and decide you're too broke for a spring break getaway, you'll be glad to know there are some sneaky ways you can stretch your meager break budget.
So then, what's the secret to balling out without breaking the bank?
You just have to be a little creative, plan ahead and fake it 'til you make it.
I recently took a trip to Puerto Rico to see if I could figure out some money-saving travel hacks, and it turns out there are all sorts of ways you can stick to your budget while still feeling like you're living large.
Take a look at the pictures below to see some simple travels hacks that will help you maximize your fun and minimize your spending.
1. Plan ahead.
The date you book your plane ticket can make a big difference in the price you pay. According to research conducted by Cheap Air, you should book your trip one to four months before your departure date.
Do your research, check various websites and set price alerts to find the best deals. Being flexible with the times and dates of your trip can also save you a lot of money.
2. Book your trip at the right time.
The day of the week you buy your ticket can also affect the price you pay. Cheap Air recommends you buy your ticket on a Tuesday afternoon to find the lowest price.
3. Score free toiletries for your trip.
Instead of loading up on travel-sized toiletries at the store, you can get a lot of your favorite products for free by going online and signing up for samples.
4. Fake it 'til you make it to first class.
If you're jealous of all the nice amenities you get in first class, just recreate the same experience in your sh*tty economy seat by packing your favorite snacks, an inflatable pillow, some noise canceling headphones and an iPad loaded up with movies. Plus, if you give the flight attendant a little gift, like a box of chocolates, before the flight, there's a pretty good chance you'll get preferential treatment.
5. Bring your booze onboard.
Upgrade your boring complimentary beverage into a bougie beverage by bringing a cocktail kit onboard (if you're of legal drinking age, of course). These kits are TSA approved so you don't have to worry about having them taken away from you at security. In addition to booze, the travel-size tins also contain tiny bottles of bitters, recipes, mixing spoons and pop-up cups. So, just grab a free mixer from the flight attendant, and you're good to go!
6. Beat the in-flight entertainment system.
Want to take advantage of the in-flight entertainment for free? You might be able to beat the system, as long as your flight doesn't have WiFi. Supposedly, swiping any card containing a magnetic strip will grant you access to free movies. Since there's no signal to verify your card, the transaction isn't processed until the plane lands.
7. Hit up the duty-free shop.
Before you leave the airport, hit up duty-free for some cheap booze. Everything will be tax-free, and it always seems to have special offers and sales. And if you're staying at an all inclusive resort, keep in mind most packages don't include premium liquor. So if you want to sip on your favorite top-shelf brands without paying premium prices, bring it with you. Also, make sure you get some mini-bottles. You'll thank me later.
8. Skip out on the expensive tours.
Instead of taking one of those cheesy excursions offered by the resort, grab a map, talk to some locals and go on your own damn tour. That way, you can focus on seeing the things you want without time restrictions, and you never know, you might even find out about some hidden gems off the beaten tourist path.
9. Ask the Internet for advice.
If you're not too keen on asking the locals for advice, you can also turn to the Internet for recommendations by checking out travel-related Instagram accounts and websites, like Trip Advisor, to see tips and reviews from other travelers.
10. Add your own alcohol.
Remember those mini-bottles from duty-free? Well, those bad boys will help you save a sh*t ton of money on drinks. Just throw a few mini-bottles in your beach bag, order virgin drinks (which are a fraction of the price) and discreetly add your own booze!
11. Eat like a local.
Scope out the local food scene instead of eating at hotel restaurants and tourist traps. The local spots usually have awesome, inexpensive food, and you'll get a taste of the country's real culture, instead of eating up the bullsh*t tourist version of the country's cuisine. Seriously, these insane tacos came from a food truck on the side of the road, and they were amazing.
12. Make your own mini bar.
Mini-bar snacks tend to come with pretty steep prices. So instead of trying to resist the temptation of devouring that $12 bag of Doritos when the drunchies strike, stock up on snacks before you get to the hotel and make your mini bar at a fraction of the cost.