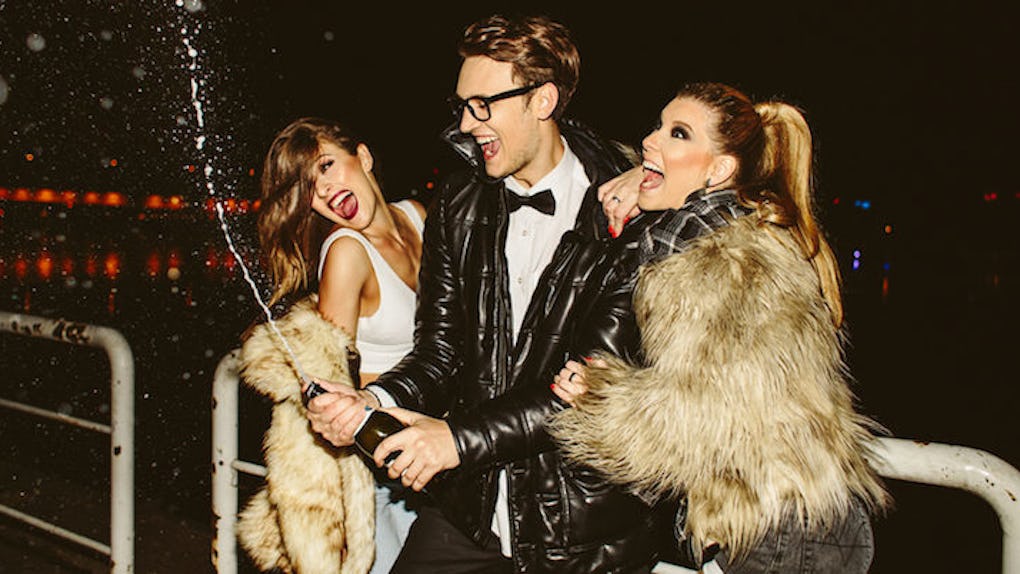 Studio Firma
The Best New Year's Eve Party Cities For 2016: NYC to LA
The merry month of December is finally upon us, which means we're about to be up to our eyeballs in candy canes, Christmas presents and fugly festive sweaters ... and fugly festive sweater nails for the really adventurous.
While visions of sugarplums may be dancing in your head at the moment, it's important to make sure that you don't lose sight of the biggest holiday bash of the year: New Year's Eve, of course!
Yep, there's no better way to send off 2016 than dancing the night away at an epic New Year's Eve rager.
Everyone knows that the slate get's wiped clean after the clock strikes midnight, so blacking out and making a myriad of bad decision is clearly the ultimate way to go out with a bang.
No really: If you actually remember watching the ball drop, you're not doing NYE right.
If you're wondering which destinations are the perfect place to celebrate, looks no further.
Evite, the digital service that's known for bringing people together, just announced in an email the top party cities of 2016.
This year, Houston was named as the party capital of the US, boasting a total of 70,864 events, followed by Chicago, Austin, San Diego and Los Angeles.
Evite devises the list by ranking cities based on the number of parties, events and get-togethers that occur throughout the year.
In a press release, Victor Cho, chief executive officer of Evite, stated,
These cities are leading the way when it comes to bringing people together face-to-face and strengthening connections with friends and family. We are confident they will keep on partying throughout the holiday season and beyond!
Check out the pictures below to see the top party cities of 2016.
1. Houston, Texas
2. Chicago, Illinois
3. Austin, Texas
4. San Diego, California
5. Los Angeles, California
6. Atlanta, Georgia
7. New York, New York
8. San Jose, California
9. Seattle, Washington
10. Washington, D.C.
11. Dallas, Texas
12. San Fransisco, California
13. Portland, Oregon
14. Denver, Colorado
15. Charlotte, North Carolina