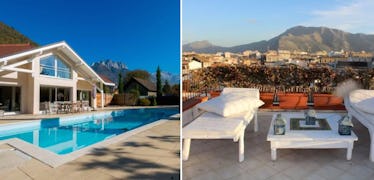 15 Beautiful Airbnbs Around The World You Can Actually Afford To Stay In
Airbnb
If you find yourself daydreaming out the window, desperately longing for a vacation, now's the prime time to quench that thirst.
Let's get one thing straight: When your wanderlust is calling, it's difficult to quiet that tempting little voice inside your head. It NEEDS to be satisfied, and you freaking deserve it.
Ah, do yourself a favor, and round up the squad to get on their planning A-game ASAP.
Spring is here, and summer is just around the corner... which translates to prime travel season. If that's not a good enough excuse to get on booking your getaway right now, I don't know what is.
And, if your wallet is crying out for help at the thought of you taking it on a trip, do not fret in the least bit.
Here are some of the cheapest Airbnb rentals throughout the globe, you'll actually want to book your next vacation to.
1. Lavish stone villa with unparalleled view of  Kissamos Bay in Chania, Kriti, Greece -- $55 per night.
2. Charming stone apartment by the sea in Parikia, Greece -- $88 per night.
3. Tower house overlooking the beach in Frangokastello, Crete, Greece -- $66 per night.
4. Boat docked in Barcelona, Spain -- $66 per night.
5. Bamboo cottage in the rice fields of Bali, Indonesia -- $67 per night.
6. Gorgeous countryside trullo in Ostuni, Italy -- $99 per night.
7. Whimsical glass-walled "cabana floripa" in Florianopolis, Santa Catarina, Brazil -- $79 per night.
8. Serene cottage, complete with a garden and pool, in Biscayne Park, Florida -- $85 per night.
9. Shabby chic barn loft in Fayetteville, West Virginia -- $85 per night
10. Stunning villa complete with a pool and breathtaking views in Veyrier-du-Lac, Rhone-Alpes, France — $66 per night.
11. Igloo by the sea in Trinity Beach, QLD, Australia -- $69 per night.
12. Luxury room with impeccable roof terrace in Palermo, Sicilia, Italy -- $55 per night.
13. Romantic "white home" in Palermo, Sicily, Italy -- $71 per night.
14. One-bedroom flat in Budapest, Hungary -- £44 per night.
15. Trendy flat in Kraków, Lesser Poland Voivodeship, Poland -- £33 per night.