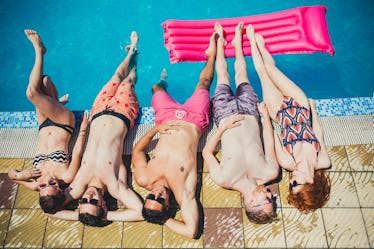 6 Ways To Find The Ultimate Summer Fling So 2018 Will Be Your Hottest Summer Yet
The word "fling" has a highly negative reputation, and I think it's an undeserved one. Yes, the phonetics of the word itself sound flaky, and that the word connotes a temporary and unserious state. But if the word "fling" was a person, Fling would be the life of the party — sipping margaritas on a unicorn pool float. I want to reclaim the word "fling" and sort out how to find a summer fling for those of you who are on board with this idea.
To enjoy a summer fling is to enjoy your life in the moment. (She said with all too much seriousness, as though she was sitting in a cabin at Walden Pond.) But I do feel as though I have a fling with summer every year. Every summer I enjoy the excellent weather with abandon knowing that it can't last forever, because I live in New York.
Summer has a pre-established beginning and endpoint, and that somehow makes it OK to indulge a little more in relaxation, hot dogs, and rosé while the opportunity is there. There are no falsehoods — no one is under the guise that the nights of wearing white pants and staring at fireworks will be endless. And that right there is exactly what I think the key to a successful summer fling is — the acknowledgment that the lusty-but-also-romantic kisses are temporary. If you're OK with that fact, and you want find someone cute to romance for the next few months, here are my hot tips.