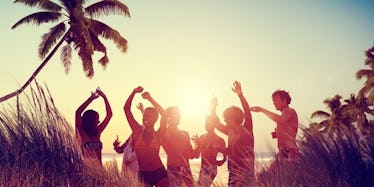 9 Spontaneous Things You Can Do Now If You Feel Like You've Wasted Your Summer
Pixabay
We're smack dab in the middle of summer.
You may feel like it's cruising on by, and you literally haven't checked off anything on your bucket list yet. Where did the time even go?
If you're afraid the summer is getting away from you, don't fret. You can still make this an epic season to remember.
Why waste any more time? Here are nine things you can do right now, so you won't feel like you've wasted this summer.
1. Take An Unplanned Weekend Trip
If you've gone all summer without getting out of town, do it ASAP. Summer is all about exploration.
Even if you're totally broke and can't go on a luxury vacation to some exotic land, you can still take a weekend trip out of town.
Get some friends together and take a mini road trip.
2. Play Hooky
Call in sick from work to really go all-out Ferris Bueller and play hooky for the day.
Use the free day to do every summer activity you can imagine. Get your crew together to have a fun time exploring town and making memories.
3. Hold An Instagram-Worthy Summer Photo Sesh
You want to remember this summer, and the best way to do that is with fun photos you'll want to share for years to come.
Find a funky graffiti wall, or any Instagram-worthy location, and snap the afternoon away.
4. Take A Day Trip To A Nearby Beach
Sometimes, the planning will prevent you from ever relaxing on the sand. Many of us long to go to the beach during the summer, but we keep putting it off.
Just say f*ck it and finally make those moves to go. There's no time like the present.
5. Start A Random Dance Party
When you have all of your best friends together, throw on a playlist of songs that will make everyone want to get up and dance.
This is a judgment-free zone, after all.
6. Tell Your Crush You Like Them
If you have a crush, now is a great time to just bite the bullet and let them know.
There's something about the summertime that makes us feel like having a fling or falling in love. Take a chance.
7. Take Advantage Of Free City Activities
There's always a fun free event going down in the city. Take a look at the calendar for your city, and plan to go to at least one event this week.
It could be a street fair or even a polka festival in the park. The weirder the event, the better the story.
8. Hit Up A Local Jazz Club
Nothing screams summer like some solid beats. It may be too late to go to one of the bigger musical festivals, but it's not too late to go to a local music show.
You could even find a fun jazz club to check out with your girlfriends.
9. Party All Night Long
If you're hanging out with friends and it's late, just keep the party vibes going.
Make it a mission to stay up all night and plan to end the night eating a delicious pancake breakfast at a 24-hour diner.
You still have time to make your mark this summer. Just don't think about it, put yourself out there, and have fun.