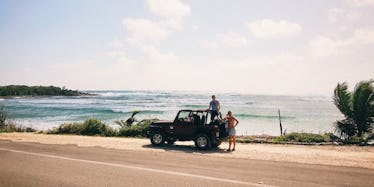 7 Quick, Easy Ways To Make The Most Out Of A Summer Road Trip In Your 20s
Pixabay
It's no question summer is a prime time to cross off many places on your travel bucket list.
Many folks choose to travel by car instead of shelling out hundreds (if not thousands) of dollars to fly to their destination. In fact, the road trip is just as much a vacation in itself.
Before you hit the road this summer, consider taking a few extra steps to ensure your journey is as safe, comfortable, and adventurous as it can possibly be.
Here are seven simple ways you can make the most out of a summer road trip in your 20s.
1. Pack Light
Overcrowding the car with a ton of luggage won't do you much good.
If you're trying to find something quickly, or make extra room for a new souvenir, the clutter will make your getaway stressful AF. Instead, pack essentials you know you'll need, and those you can use more than once.
For example, a simple black maxi skirt can go with nearly any top imaginable, so you can make several outfits out of just one item.
2. Shop For Easy And Delicious Car Snacks
Instead of stopping to buy food every few hours, take a trip to the grocery store or your favorite bakery before you hit the road.
Stock up on some yummy snacks and simple foods that don't require any preparation so you can eat on the go. If you need to keep things cool, a tiny car cooler can make a world of difference.
3. Know When To Come Home
The spontaneity of a road trip is a big part of the fun, but going overboard will just add unnecessary stress to the journey.
A smart thing to prep beforehand is the length of the trip at the very least, so you know when it's time to turn around and head home sweet home. A set destination, however, is 100 percent optional.
4. Take Advantage Of Pinterest Road Trip Hacks
In my humble opinion, Pinterest is the ultimate destination for finding road trip hacks that will make your trip easier and more enjoyable.
You can find packing lists, playlist ideas, and pretty much anything you need to know about where you're going on your trip.
5. Have A Solid Playlist Ready
While technically the driver should get control of the radio, the shotgun passenger is usually in charge of keeping the music lit with their mad DJ skills.
Wherever you're riding, you should have a playlist or two ready in case of a musical emergency. I mean, what's a road trip without belting out your favorite jams with the windows down?
6. Capture The Memories
Because road trips are so spontaneous, there's no guessing what you'll encounter on your journey.
It's important to have a camera handy in case you need to capture evidence of your amazing trip. So, at the very least, keep a phone charged and by your side, just in case.
If you and your photos need a little something extra, invest in a fun Polaroid camera.
7. Download Helpful Apps
There's an app for absolutely everything, which sure comes in handy for road trips.
GasBuddy helps you locate the nearest gas stations and compares prices from the comfort of your phone. iExit is a #necessary app that helps you find any of the basics -- restrooms, food, WiFi, and places of interest -- along your drive.