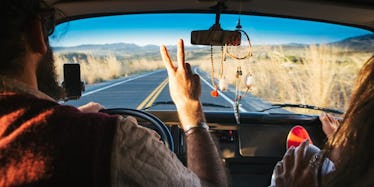 This Dream Job Will Let You Road Trip Across The Country And Drink Canned Wine
Julien L. Balmer
If you drink wine like it's your job, you're in luck.
A winery from Oregon is searching for a vino-lovin' individual to assist them in a cross-country road trip this summer to help promote their canned wines.
The dreamy opportunity is almost too good to be true.
Based off Union Wine Company's job description, the lucky candidate who is chosen will be named "Canbassador" of the winery. (Can you imagine having "Canbassador" on your resume?!)
Then, they'll hit the road in a vintage 1972 Citroën mobile wine bar and travel across the United States, making pit stops at various festivals and events along the way.
Like I said... DREAM. JOB.
The mobile wine bar will begin its trip in Oregon and drive to the East Coast and back, promoting Union Wine Company's Underwood wines in a can throughout the ride.
Of course, we don't support drinking and driving -- so let's hope when your shift is over that you'll be able to sip on a can or two during a pit stop along the journey.
The entire trip should last 1-4 months, so the ideal candidate would be someone who doesn't mind being away from home for long periods of time.
The winery also admits they're looking for an individual with an appreciation for wine who's also outgoing and comfortable living on the road.
A few other requirements include being 21 years or older and being able to drive large vehicles with a trailer. Plus, you'll need to be a good navigator since you'll be traveling.
If you aren't already sold on the position, wait until you hear the compensation the winery is offering.
Apparently, the Canbassador will be receiving between $15 and $18 per hour, according to Thrillest. The exact amount will depend on the candidate's experience, though.
If you're looking for new summer gig, make sure you apply for this position. Application deadlines are May 7, so submit your resume ASAP and cross your fingers you land the job.
Citations: THIS WINERY WILL PAY YOU TO TRAVEL ALL ACROSS THE COUNTRY & DRINK CANNED WINE (Thrillest)