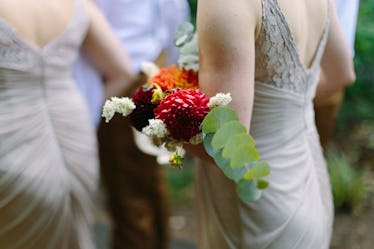 5 Methods To Get Through Wedding Season When You're So Sick Of Being Single
Every time I watch two humans declare "I got you, babe," in front of an audience the size of a small cult, I sweat from my eyes. IMO, tissues are the most important wedding outfit accessory. But with the happy tears comes the existential thinking. There's nothing like a cocktail-fueled party dedicated to someone else's love to make you reconsider where you're at in life in the relationship department. Going to a wedding when you're single is emotional enough when you're not looking for a relationship. (Pass me that second piece of cake, please!) And if you are looking for something serious? Weddings are a doom spiral waiting to happen.
Unfortunately for forlorn singles looking to avoid the fact that love exists, the thing about weddings is that you have to attend them. (Especially if you're 29, and people are shacking up weekly all summer long. Shout out to my life.) If you're bummed about being single and having to attend a bunch of weddings stag, I can tell you "you're not alone," or "reframe your thinking," but I know it doesn't exactly help you when everyone gets on the floor when K-Ci and Jojo's "All My Life" starts to play.
I've been there, and I get it. Being single when you want to be with someone sucks, and I applaud you for recognizing that you actually want a partner. (I sometimes have taken the path of "chill single girl," when really, I wanted a boyfriend and I wanted him immediately.) But because I get it, rather than suggesting you journal to manifest your future partner before the wedding, I'm going to break down some really practical pieces of advice for how to survive when you are single at the wedding. You got this.