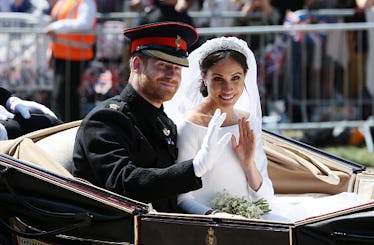 7 Swoonworthy Love Lessons You Can Learn From Harry & Meghan's Royal Relationship
While it may seem that on the surface Prince Harry and Meghan Markle have a picture-perfect fairytale romance, they're actually a normal couple underneath all of the glamour of royalty. From thoughtful gifts in the beginning of their relationship to their mixed-tradition wedding, this new royal couple has lots to show us everyday citizens what a strong relationship looks like. There are plenty of love lessons Harry and Meghan can teach us if you look closely.
The two began dating in 2016, and while the early start of their relationship was kept mostly on the down low, Harry made a supportive statement soon after they went public to show that he stands by his girlfriend completely and will not tolerate any racist coverage of her in the press. And while there certainly have been some rocky moments for this couple since 2016, they've shown that they're in it for the long haul — they want to stick together, support each other, and stay by one another's side. Check out some of their love lessons you can apply to any non-royal (or royal! Get that crown!) relationship of your own, because we can all learn from one of the world's most beloved couples.