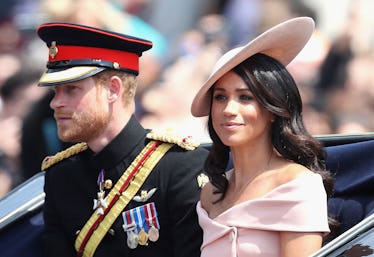 Prince Harry Subtly Told Meghan Markle When To Curtsy To The Queen & You Totally Missed It
Chris Jackson/Getty Images News/Getty Images
All the world knows that when the Queen of England is being honored, you must — without question — submit. Even if you're Meghan Markle, Duchess of Sussex. And thankfully, Meghan has her husband, Prince Harry, the Duke of Sussex, to guide her in following the royal protocol. His guidance was definitely needed this past Saturday, June 9, during the queen's birthday celebration. This much was made clear by an eagle-eyed fan who captured a video of Prince Harry telling Meghan Markle when to curtsy.
To set the scene: The royal family all gathered for the Trooping the Colour event, which is a yearly celebration of the reigning monarch's birthday. The reigning monarch is, of course, Queen Elizabeth II, and her family was present at Buckingham Palace to watch a military parade.
While all this is going down, the royal family is expected to bow or curtsy (depending on their gender) to show their deference to the queen. And it was during this bit of the ceremony that Meghan needed just a little help.
In the video, Meghan appears to ask Harry if it's time for her to curtsy.
"Do it?" she appears to say. Prince Harry replies, "Yes."
Then, Meghan curtsies without the slightest bit of hesitation.
Harry's gesture was very subtle, but undoubtedly appreciated by Meghan.
Here's a look at the video, which was posted by harry_meghan_updates on Instagram:
In the caption for the Instagram post, harry_meghan_updates says:
WOW! Harry guiding Meghan.. Didnt notice it. ICYMI: Meghan asks "Do it?" and Harry says "Yes" 😭♥️
As expected, the Instagram post got people talking and speculating about the whole situation. One user suggested that Meghan was saying something else entirely:
Looks more like: "Say when" to which he replies at the correct time "now."
Another user had some words of encouragement for Meghan:
Don't you worry, Duchess Meghan, you still got a long way to go and you're gonna do great.
And yet another user took the opportunity to express what they (and the rest of the British people) appreciate about the new Duchess:
What resonates with the public about Meghan is not her mastery of protocol, (which to the outsider public holds less meaning than to the Palace insider), but Meghan's passion about causes and issues, her articulation for those struggling to be heard, her effortless chic style, and her innate positivity. Perhaps the protocol police could let up a bit, at the risk of appearing to snuff out the spirit behind the family's "feminist" who is perfectly conciliatory and artful in making compromises.🌹👏
Wow, what a way to put things into perspective. Meghan is definitely a passionate soul and has used her platform to express that. Hopefully, she'll be able to do even more of that important work as she settles into her life with the royal family.
Part of that settling process includes attending events with other members of the family, including Queen Elizabeth II.
On Thursday, June 14, Meghan is scheduled to make another appearance with the Queen. Their itinerary for that day includes going to Chester's Storyhouse Theatre, which is a library, cinema, and theater all wrapped into one great location. Meghan and the Queen are expected to officially open the theater.
Additionally, Meghan and the Queen will be attending the opening of Mersey Gateway Bridge in Cheshire, England, which sits approximately 160 miles north of London.
So, given how jam-packed Meghan's schedule will be with all these royal events, it's great that she's getting protocol lessons from her husband, Harry. She'll be attending Thursday's events without him, so she'll have to learn everything by heart by then!