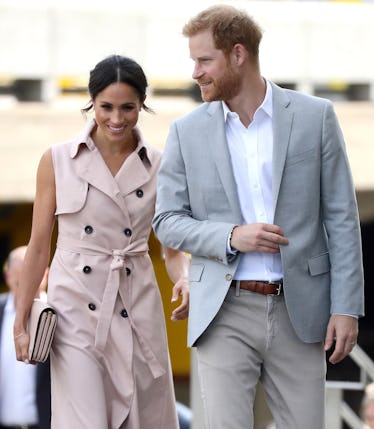 How Prince Harry Is Supporting Meghan Markle Through Her Family Drama Is So Sweet
Chris Jackson/Getty Images Entertainment/Getty Images
Meghan Markle's rocky relationship with her family is super tough to bear witness to, but fortunately, she has a ton of support from those surrounding her, including her new husband, Prince Harry, Duke of Sussex. While we know that currently, it seems that the Duchess of Sussex's relationship with her father, Thomas Markle, is currently on hold, the royals have got her back with whatever she's going through. Recently, there has been talk about Prince Harry's reaction to Meghan Markle's family drama, and it will make you so, so happy.
A source told Entertainment Tonight that Meghan has had "unwavering support" from Prince Harry, alongside a few close friends who are helping her navigate through this tough time with her father and her half-sister, Samantha Markle.
"Meghan has few very close friends and Harry has made sure that she knows she's loved and supported," the source told the site. "Meghan is really settling into royal life. She's been welcomed by Harry's close friends."
Elite Daily has reached out to Kensington Palace for comment on the report, but have not heard back upon time of publication.
The source also revealed that Markle can lean on Prince Harry and his friends to help mitigate the tension she feels with her family:
It's been great for Meghan, when she's been under so much stress because of her father and sister's public attacks, to be able to have Harry get to know and double date with her friends and spend time with Harry's married friends also ... Meghan is really looking forward to a busy fall and throwing herself into her royal life and work ahead. She's always been devoted to her humanitarian work and is looking forward to making an impact with Harry.
Somebody get this man a Husband of the Year Award, pronto.
The source also stressed that Meghan trusts the few that are close to her, like friends Jessica Mulroney (who is her stylist) and Serena Williams (yes, that Serena Williams). "Meghan doesn't have a huge circle of friends and the recent weekends with Serena and Jessica were just what she needed," the source told Entertainment Tonight. "The stress of her father's continued indiscretion is upsetting but she's coping with it the best way she knows how with the support of her husband and BFFs."
Thank goodness for (really, really famous) friends, amirite?
The new royal has also been introduced to some new royal friends, "including polo player Nacho Figueras and his wife, Delfina Blaquier," who you *might* remember seeing after he and the newlywed were onstage and the pair shared a steamy kiss for all to see.
And in case you missed that:
Swwwwooooooonnnnn.
And don't worry, Meghan's got the entire royal family on her side as well, including Queen Elizabeth and Kate Middleton. "What's characterized these months are the two great relationships that she has struck up with the Queen and with Catherine," Robert Lacey, who is a historical consultant for The Crown, told People. "They seem to be her closest friends and partners in the official set-up." Elite Daily reached out to the Palace for comment on this report, but did not hear back by the time of publication.
I love hearing that so many people are showing Meghan the love and support she needs and deserves. Proof that sometimes, family is something you create yourself.