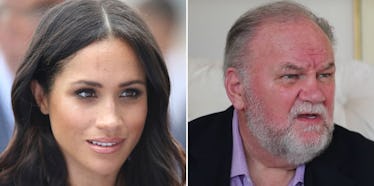 The Latest Update About Meghan Markle & Her Dad Will Break Your Heart
Chris Jackson/Getty Images/YouTube
Meghan Markle and Thomas Markle's relationship is not in a good place. And by not in a good place, I mean their relationship is basically on pause right now. This Meghan Markle and Thomas Markle relationship update does not bode well for the Duchess of Sussex's father, who's been trying to get his daughter's attention by speaking negatively of her in the press (because that'll do the trick...). According to the Daily Mail, Meghan is done with her father and isn't currently interested in mending their relationship. If the reports that he faked his heart attack in order to get out of attending her wedding are true, I wouldn't blame her at all. Elite Daily reached out to Kensington Palace for comment on the current state of Meghan and Thomas Markle's relationship, but did not hear back by the time of publication.
The Daily Mail reports that a close friend of the Duchess of Sussex said Meghan and her father patching things up anytime soon is not likely to happen. "A reconciliation is completely off the table at the moment," the source said. "There's no chance right now — he's been a complete embarrassment." The reported friend of the duchess added that Meghan and her father's relationship was strained long before she started dating Prince Harry, so she's taking all of his talk in the press lightly. But every time he does say something, it's no doubt a nuisance to the duchess and further cements her lack of desire to concede to what he wants.
The source said that the royal family isn't too bothered by Markle's comments either. It seems like they know and love Meghan enough to know that his actions are his own and not a mark(le) on her. "The Royal Family isn't as upset as you'd think either," the source said, adding, "Nothing any of them [the Markle family] say has any real consequence and they [Meghan and Harry] have more important things to focus on." Burn.
I don't blame the Duchess of Sussex for not being interested in reconciliation with her father, especially if the reports of him faking his reported heart attack to get out of going to her wedding are true. Not long before the royal wedding on May 19, Markle revealed he wouldn't be attending the wedding because he had a heart attack that made him unable to travel. He said the heart attack was the result of heart issues he left unaddressed combined with the added stress that came with that whole staged paparazzi photos fiasco.
A friend of Meghan, however, recently told the Daily Mail that Markle reportedly faked his heart attack and subsequent surgery in order to save himself more embarrassment. "The whole story about Meghan's father undergoing heart surgery was made up," the source said. "He had to come up with a good enough reason not to attend her wedding and avoid any further embarrassment after those staged photos went public." Elite Daily reached out to Kensington Palace regarding these claims at the time, but did not hear back by the time of publication.
The source continued,
The poor health story was his way of generating some compassion from the public, and taking the attention off those staged photos which were a complete embarrassment to Meghan and the royal family.
To really put the nail in the coffin, the source said that Markle's story was just him trying to gain some public sympathy to help heal his bruised ego after the other publicity stunt he staged (the paparazzi photos) crashed and burned. "Of course Meghan is upset with him," the source said. "Her father missed her wedding." They continued,
He missed walking her down the aisle all because of that ill-conceived publicity stunt. It was really just such poor judgement on his part. Now everyone's feeling sorry for him. They shouldn't. He brought this upon himself and if he were truly sick Meghan would have made an effort to visit him. Don't feel sorry for him. If anything, feel sorry for Meghan.
Yo, Thomas? Here's a thought: If your daughter isn't responding to your current attempts to get her attention and the attention of the royal family, maybe stop staging publicity stunts and try something more discreet and kind. Or, you know, just stop altogether.