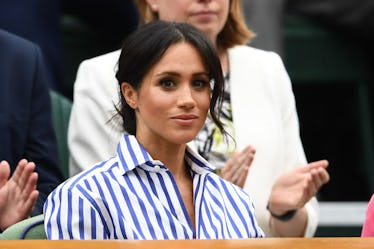 Meghan Markle's Close Friend Claims Her Dad "Faked" His Heart Attack For This Reason
Clive Mason/Getty Images Sport/Getty Images
Thomas Markle is making headlines once again, and it's not for a very good reason. The father of newly minted Duchess of Sussex, Meghan Markle, has had his fair share of media mishaps in recent months. And now a source close to Meghan is alleging that most of his public embarrassment is his own fault, including his absence from Meghan's wedding to Prince Harry. The source, who spoke exclusively to The Daily Mail, reportedly said that Thomas Markle allegedly faked his heart attack to get out of walking his daughter down the aisle to avoid further criticism following his staged photo scandal. Elite Daily reached out to Kensington Palace regarding these claims, but has yet to hear back at the time of publication.
Just to refresh your memory: days before Meghan was set to marry on May 19, Markle revealed that he'd had a serious heart attack and simply could not travel to the UK for the royal wedding. This revelation came after it was revealed that Markle had staged paparazzi photos.
Now, a source for The Daily Mail has alleged that Markle made the whole thing up to spare himself, his now royal daughter, and the rest of his family from even more embarrassment.
"The whole story about Meghan's father undergoing heart surgery was made up," the source said. "He had to come up with a good enough reason not to attend her wedding and avoid any further embarrassment after those staged photos went public."
According to the source, Markle was attempting to handle the situation in his own way.
"The poor health story was his way of generating some compassion from the public, and taking the attention off those staged photos which were a complete embarrassment to Meghan and the royal family," The Daily Mail's insider source said of the incident.
Meghan is now reportedly very upset with her father for missing an important time in her life. At least, according to The Daily Mail's source. The source went on to say that Meghan deserves the world's pity, not her father.
"Of course Meghan is upset with him. Her father missed her wedding. He missed walking her down the aisle all because of that ill-conceived publicity stunt," the source explained. "It was really just such poor judgement on his part. Now everyone's feeling sorry for him. They shouldn't. He brought this upon himself and if he were truly sick Meghan would have made an effort to visit him. Don't feel sorry for him. If anything, feel sorry for Meghan."
This report from The Daily Mail comes just days after Markle revealed he had plans to make amends with his daughter. In an interview with The Sun, Markle detailed his plan to see Meghan.
"If I chose in a month, or couple of months, to go to En­g­land — I want to see my daughter. I'm thinking about it," Markle said. "I don't care whether she is pissed off at me or not … I'm not going to wave flags and make a fool of my­self. I'd find a hotel room and try to reach them."
Whether Markle was truly too ill to attend the wedding or not is still unclear. What is not up for debate is that this is a very touchy situation. And a very personal one, too. Hopefully, Meghan can avoid further pain and embarrassment by not having to address it publicly.