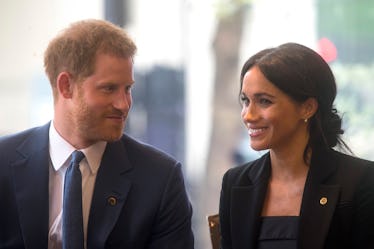 Meghan Markle & Prince Harry's Reported Plan For A Family Will Have You So Excited
WPA Pool/Getty Images Entertainment/Getty Images
Is it just me, or does it seem like Meghan Markle and Prince Harry got married, like... yesterday? The newlyweds are still sporting that honeymoon glow and basking in their first few months of married life, but that hasn't stopped people from wondering (and even outright asking them) when they're planning to start a family. There's no rush and the timing is obviously up to them, but Meghan Markle and Prince Harry's reported plans to have kids soon will make everyone so excited.
Per a inside source, the Duke and Duchess of Sussex already have babies on the brain and are "eager to start a family," according to Entertainment Tonight. Elite Daily reached out to Kensington Palace for confirmation on the comments about reportedly wanting to have a baby in the near future but did not hear back by the time of publication.
However, you might want to hold up before you start picking out royal baby names and imagining Prince Louis and Baby Sussex wearing matching onesies on the most adorable playdates. While the couple is reportedly looking forward to welcoming a bundle of joy into their home sooner rather than later, their focus is currently on their public service work. Markle in particular has reportedly been "busily preparing and doesn't want to make a wrong step."
The insider says that the former Suits actress, who was heavily involved in a number of diplomatic and charitable organizations before becoming a member of the royal family, has been eager to step into her new role and join Prince Harry in his official duties from the start of their marriage.
"[Markle] really is taking the new job part of her role seriously having meetings with palace staff and learning about the Commonwealth so she can support Harry in his new role as Commonwealth Youth Ambassador," the source said. She's already a bit of an international affairs expert, so it makes sense that she'd want to start making a difference as soon as possible.
Plus, with their first royal tour and a stop at the Invictus Games planned for the fall, the newlyweds currently have all their attention on preparing for that.
"They wanted to hit the ground running after their marriage to focus on their charitable interests and Meghan is really looking forward to representing Her Majesty on her first major Commonwealth tour to Australia, Fiji, Tonga and New Zealand," the insider told Entertainment Tonight.
While previous reports have suggested that the pair, especially Prince Harry, would love to start their brood as soon as possible, it's important to remember that they've only been married for less than five months and Markle is still getting acclimated to the whole duchess thing. I know, sometimes it's hard to believe Markle has only been a royal for such a short time, especially considering that Markle is a complete natural when it comes to exhibiting princess-like poise and grace in all situations. Plus, it's really no one else's business when (or if) the couple plans on starting a family — and Prince Harry won't shy away from giving a cheeky response if he's asked about it.
Despite all of their upcoming obligations, however, having kids in the near future is something that they've discussed and that's definitely on the table, per the source. "Harry is tactile and protective of his new wife," the insider told the publication. "He is completely besotted and nothing would make him happier if they were starting a family."
While I'm totally here for any news about a baby royal on the way, I'm also all for easing up on the baby pressure to let the newlyweds be newlyweds. Patience it a virtue, you guys.