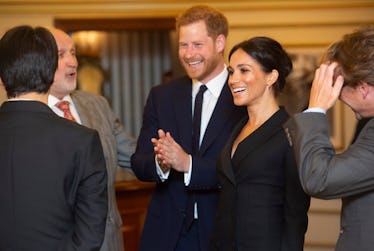 Prince Harry Reportedly Gave Meghan Markle The Sweetest Gift Before They Went Public, & We Didn't Even Know
WPA Pool/Getty Images Entertainment/Getty Images
The fairytale continues. Prince Harry and Meghan Markle are the sole reason why I believe in happily ever after. They're the love story that hopeless romantics, like me, swoon over — the real-life version of Cinderella and her dapper Prince Charming. Now, some would call this a #basic obsession with a celebrity couple. But, I'd argue that the Duke and Duchess of Sussex are far from average. Their wedding was a worldwide event, and every time something new about their relationship hits the scene, love gets a little bit better. The latest? Prince Harry's reported secret gift for Meghan Markle, before they even went public. It's so sweet and romantic, and we didn't even know. Well, until now.
According to People, Prince Harry reportedly bought Meghan a piece of artwork back in October 2016. He roamed around the Walton fine arts gallery in Kensington, London, and purchased art from British artist, Van Donna. The print set is titled, Everybody Needs Somebody To Love. (Just to put the cherry on top of the cake.) A few days later, the royal couple went public with their relationship, and the rest is history. Elite Daily reached out to a spokesperson for Kensington Palace, but they declined to comment.
A local art collector talked to People, saying that Prince Harry is a regular in the area. He frequently shops at the galleries and stores — with a bodyguard by his side, of course. (Let's be honest: That's some very precious cargo.) The day he bought the apparent gift for Meghan, he looked at a few things before settling on the piece. The collector said:
He said he was looking for something for 'an important person.' It was literally just before anyone heard about Meghan — literally just days before it was announced he was going out with her.
The hints are all there, huh?
Let's talk details, though, because the thoughtfulness behind this gift is what makes it so sweet. The piece is considered a diptych, which means there are two parts. Apparently, at one point, Prince Harry asked if the artwork could be split in half and shared. A.K.A: one half would go to Meghan, and the other would be with him. It's like that picture from The Parent Trap that was torn down the middle, just without the whole "secret twins" and summer camp part. *Cue a very dramatic tear, and then please pass the tissues.*
One side is a silhouette of a couple holding hands, and the other reads the phrase, "Everybody Needs Somebody To Love." Splitting it up, is kind of cute way to tell someone, "Hey, I really like you," and create another form of a connection. It's a sign that you're paying attention to other person, and want to have a piece of that love in your own space. Flowers, boxes of chocolates, or one of those stuffed animals that says something when you squeeze the paw? Sorry, but they're overrated, now. Being an art nerd, myself, getting something like this from a significant other would result in some serious brownie points.
It's not known how much Prince Harry paid for the art print. But, Cosmopolitan reported that a similar piece by Van Donna went for $5,000 in 2016. So, this little act of love was likely just as expensive. Dating a prince definitely has its perks, aside from attending royal events and regal AF engagement rings, down the road.
Whether this gift was truly meant for Markle, or not — well, for now, we don't truly know. But, maybe it being a secret is part of the romance. When your whole relationship is in front of the world, little details like this can be nice to keep to yourself. (Jim and Pam from The Office, and the teapot letter, anyone?)
Either way, I can say this: To all the boys I've loved before, take some notes. This gift is seriously so sweet, and just another addition to the fairytale.