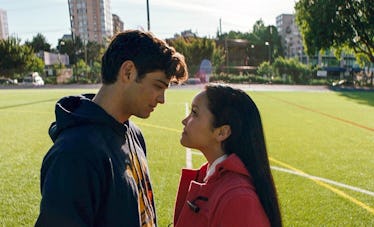 These Tweets About 'To All The Boys I've Loved Before' Will Make You Say "OMG, Same"
Netflix
Surprise, surprise. Netflix has another hit for you to obsess over on their hands. On the heels of this summer's romantic comedy success stories The Kissing Booth, Set It Up, and Alex Strangelove, To All the Boys I've Loved Before — the film adaptation of Jenny Han's 2014 YA novel of the same name — is taking the streaming the service by storm. While the film was only released on Friday, Aug. 17, viewers are already freaking out about their love for the charming high school tale. Tweets about To All The Boys I've Loved Before prove that if you loved the flick, you're definitely not alone.
To All The Boys I've Loved Before stars Lana Condor as homebody Lara Jean Covey, a timid student just entering her junior year whose letters to all her crushes through the years get (gasp!) mailed out, thus her inner secrets and feelings are exposed. Uh oh is right. It's an unpleasant scenario to say the least, though it sets off a series of events — mainly Lara Jean's pretend relationship with popular jock Peter. Their courtship comes in an effort to throw off the actual object of her affection (and make Peter's ex jealous), and what ensues is all sorts of heartwarming, relatable high school adorableness. Plus, there are lessons about family, friendship, and letting go of fear. Basically, this film has everything one would ever desire from a movie.
While it could have slipped under the radar, To All The Boys I've Loved Before has captured the hearts of critics and audiences alike. If you need further evidence of its reach, social media speaks for itself:
If you felt connected to the film, even star Lana Condor gets it. The 21-year-old actor (who you might recognize from X-Men Apocalpyse) spoke to The Cut about what Lara Jean meant to her:
I felt lucky because in high school, I was similar to Lara Jean. Now I'm more of an extrovert, but that's a learned personality trait. I have never played a normal girl before. As an actor, if you're in an action movie, you can hide behind the hair, makeup, and production. When you're playing a normal girl, it's you. You're a lot more exposed.
In addition to winning over fans with its authentic and sympathetic sweetness, To All The Boys I've Loved Before exemplifies a cultural shift in Asian-American representation in entertainment. Author Jenny Han has been vocal about her fight to not whitewash the cast while developing the project, writing in the New York Times, "Because when you see someone who looks like you, it reveals what is possible. It's not just maybe I could be an actress. It's maybe I could be an astronaut, a fighter, a president. A writer. This is why it matters who is visible."
To All The Boys I've Loved Before is currently streaming on Netflix. If you haven't watched yet, I think I know what you're doing this weekend...