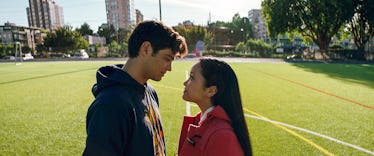 The 'To All The Boys I've Loved Before' Trailer Will Get You In The Summer Rom-Com Mindset
Netflix
This summer is slowly turning into the summer of the romantic comedy, and I'm so about it. Netflix is leading the rom-com revival with hits like Set It Up and The Kissing Booth, and on Thursday, the platform dropped a trailer for their newest teen romance. The To All The Boys I've Loved Before trailer is all about feel-good drama, so it's sure to get you in the summer rom-com mindset. After a long day at the beach, there's nothing better than sitting down on the couch with a bottle of rosé (or four) and enjoying some lighthearted romance.
To All The Boys I've Loved Before is a high school love story turned nightmare. Lana Condor (you may know her as Jubilee in X-Men: Apocalypse) stars as Lara Jean Song Covey, a high schooler who has spent years writing private letters to all the boys she's ever had a crush on. Lara Jean never intended on actually sending these letters, but one day, she comes home from school and finds out that the letters have been mysteriously mailed out. Suddenly, all of Lara Jean's secrets are out in the open — the worst-case scenario for pretty much every high schooler (and honestly, every person) in the world.
In the trailer, Lara Jean describes her various crushes, and they're all incredibly different. There's "Peter with the beautiful eyes, Kenny from camp, Lucas from homecoming, John Ambrose from Model U.N., and Josh, the boy next door." The letters to each guy describe her fantasies about their relationship, but they're just that: fantasies. And secret fantasies at that — no one in her life knows about the letters, including her family.
But when the letters are mysteriously sent out, Lara Jean's entire life is upended. She begins spending time with the five guys IRL, especially Peter (Noah Centineo), who helps her navigate the situation and teaches her to find her inner confidence. This is a teen drama, OK? Watching someone gain self-confidence is basically a requirement of the genre.
Condor looks amazing in the starring role, but it seems like her co-stars will shine, as well. Janel Parrish (Mona in Pretty Little Liars!) stars as Lara Jean's sister Margot, and she pushes Lara Jean to accept the possibilities the letters have created. "Can you maybe just admit that some part of you doesn't want everything in your life to be a fantasy?" Margot asks her sister in the trailer. Ultimately, Lara Jean takes her advice, and she vows to "get out there and show people" who she really is. Rounding out the family are Sex and the City's John Corbett as Lara Jean's father and Odd Squad star Anna Carthcart as younger sister Kitty.
If you think To All The Boys I've Loved Before looks amazingly relatable, you're not alone. Condor recently told Teen Vogue that she believes the movie's relatability is its biggest strength:
I think that all teens have fantasized about a seemingly unattainable crush at one point in their life. I believe we've all been through the doubts and self-consciousness that comes with whether or not we should approach our crush and get to know them. It's the fear of rejection. I think Lara Jean has all of these universal fears and eventually learns that people will love who she really is if she just is her authentic self.
To All The Boys I've Loved Before is based on Jenny Han's New York Times best-selling novel of the same name, so if you really want to be prepared for the movie, add the book to your list of summer beach reads.
To All The Boys I've Loved Before hits Netflix on August 17, 2018. That gives you plenty of time to read the book and watch the trailer 400 more times before the movie premieres.