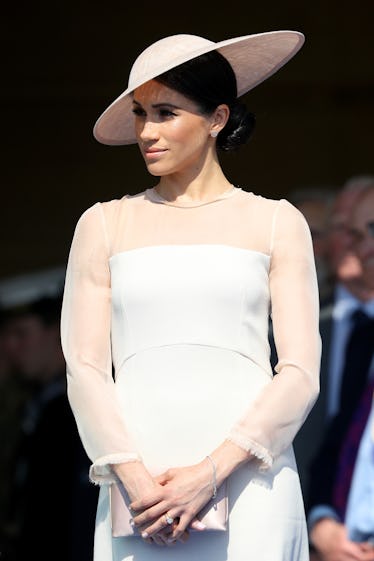 Meghan Markle & Prince Harry Just Made Their First Appearance As A Married Couple
Chris Jackson/Getty Images Entertainment/Getty Images
I know the royal wedding has come and gone, but I can't shake my obsession with the new Duke and Duchess of Sussex. Prince Harry and Meghan Markle's first appearance after their wedding took place on May 22 and it was all kinds of regal. Prince Harry and Meghan Markle celebrated Prince Charles' upcoming 70th birthday at a garden party on the grounds of Buckingham Palace. The couple was joined by Camilla Parker Bowles, Duchess of Cornwall.
If you're wondering, Prince Charles doesn't actually turn 70 until November, so it was a pretty early birthday celebration. You know how you celebrate your birthday for entire month? Well, when you're royalty, you get about six months. It's just how it works, people. According to E!, over 6,000 members from charities attended and Prince Harry gave a speech at the event. As we could have guessed from the newlyweds' nuptials, these royals spare no expense on throwing a good party.
Markle looked stunning in a blush dress and matching hat. The dress is made by GOAT, and it's already sold out, according to E! News. The best part of her outfit, though, is that ring – let's be real. It's seriously blinding but I'm kind of OK with it.
This is the first time we've seen the couple in public since their gorgeous wedding at Windsor Castle on Saturday, May 19. Harry and Meghan tied the knot at St George's Chapel, where they were celebrated by the Queen, the Duke and Duchess of Cambridge, Prince Charles and Camilla, Meghan's mom, Doria Ragland, and the most adorable page boy and bridesmaid, Prince George and Princess Charlotte. Other notable wedding attendees included George and Amal Clooney, Priyanka Chopra, David and Victoria Beckham, James Corden, Serena Williams, and Oprah. YES, OPRAH.
Now, we get to see the couple in their royal, married glory. Here's Meghan and Camilla looking gorgeous in their pastel tones.
Here's Meghan laughin' it up with her parents-in-law.
And here's the incredible foursome with some of the party attendees.
Harry is giving some serious ~vibes~ with that top hat in his hand and umbrella looking like a cane in the other.
With just having their wedding a few days ago, you may be wondering why Meghan and Harry aren't on their honeymoon just yet. Earlier this month, it was announced that the royal couple would delay their post-wedding trip for some business. Royal expert Omid Scobie tweeted on May 4,
The couple won't immediately go on honeymoon. Instead they'll attend an engagement the week after the wedding and then go away. Work is clearly a huge focus for the couple and the second half of their year 'is going to be incredibly busy.' Can't wait!
I guess this party is the "engagement" the tweet refers to. In that case, we'll probably see Harry and Meghan head out soon for their honeymoon. While it hasn't been confirmed, Travel + Leisure reports they will be going to Namibia. As many fans of the royal couple know, Africa holds a special spot in Harry and Meghan's relationship. One of their first vacations together was a three-week trip to Botswana. And main diamond in Meghan's engagement ring was also sourced from Botswana. In their first interview after announcing their engagement, Prince Harry told BBC,
The ring is obviously yellow gold because that's what — her favorite. And the main stone itself I sourced from Botswana, and the little diamonds either side are from my mother's jewelry collection to make sure that she's with us on this crazy journey together.
Ugh. I'll never get over it. Meghan and Harry, keep the pics coming. Can't wait to see what else these two do in their married life together.