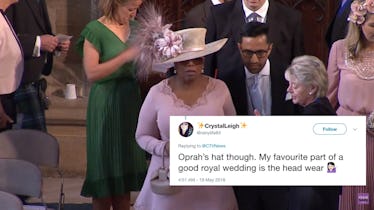 Oprah Just Showed Up To The Royal Wedding & Fans On Twitter Are Losing It Over Her Hat
The royal wedding has officially begun, people! And I know today is supposed to be all about Meghan Markle and Prince Harry, but honestly, my eyes have been glued to Oprah Winfrey since she showed up at Windsor Castle. Judging by the tweets about Oprah's hat at the royal wedding, I'm not alone, either. Harpo, girl, we are all obsessed with this fabulously British ~lewk~.
Don't get me wrong, I am so pumped to see what Meghan Markle's gown is going to look like when she walks down the aisle of St. George's Chapel, but for now, I am here for all of the fancy hats, all of the gorgeous dresses, and of course, so here for Oprah Winfrey's appearance at the biggest wedding of the year, not to mention the stunning, baby pink dress she's wearing, and of course, her matching hat. I have to admit, I may be a bit biased here, because, first of all, I freaking love Oprah (but like, who doesn't?), but aside from that, she just so happens to be wearing what looks like the exact same color as my high school prom dress. Perhaps it's sad that I even remember the color of my prom dress, and even sadder that I drew that comparison here, but what can I say, I'm a sucker for a soft shade of pink (#MillennialAF).
Clearly, though, I'm not the only one obsessed with Oprah's royal wedding look.
Yeah, duh, Oprah doesn't slack on anything in this life. That's why she's Oprah.
For someone who never wears hats IRL (aside from the occasional beanie), I, too, am loving the headwear at this royal wedding.
"Fabulous" is an understatement, if you ask me. Oprah's working this look so, so well.
I mean, yeah, it was only a matter of time before someone made the "and you get a hat!" joke. I'll admit, I chuckled.
Leave it to Oprah to upstage everyone with her outfit, no matter where she is — even at a royal freaking wedding.
Personally, my thoughts are that it's my absolute favorite look thus far at the royal wedding, and I'm even more in love with the outfit now that I can see that adorable little matching purse she's carrying up close. Oprah, can your stylist please give me a call ASAP?
OK, now I can't decide if I love her purse more, her hat more, or the sophisticated lace details both on the neckline of Oprah's dress, and further down near the skirt.
Wait, are you saying Oprah's hat didn't get its own invitation? Rude. Who do these Brits think they are, royalty or something?!
What do you mean you didn't recognize Oprah?! IT'S OPRAH, KEN. GET IT TOGETHER.
Of course, Oprah's not the only one who showed up to the royal wedding dressed to impress with her perfect Sunday church look.
Again, I know today is about Meghan Markle and Prince Harry, and when the time comes, I will lose my mind over the two of them, but for right now, WE NEED TO TALK ABOUT GEORGE AND AMAL CLOONEY, because OMG, Amal is literally a walking ray of sunshine. I know no one is supposed to upstage Meghan at her own wedding, and I don't want to speak too soon, but Amal Clooney has quite literally taken my breath away with this stunning outfit. I'm not sure if she's usually partial to yellow shades in her overall style, but I've literally never seen someone glowing in this color the way she does.
Meghan, you better bring your A-game, girl! Oprah and Amal are comin' for your spotlight.